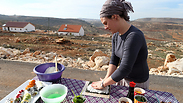 Esh Kodesh's sushi
Photo: Amit Shabi
You will never guess the newest trend to hit West Bank outposts: Prepackaged sushi from flashpoint settlement Esh Kadosh.

The blooming sushi takeout service capitalizes on what has up till now been a solely Tel Aviv trend, considered by some the symbol of its cosmopolitan bourgeoisie life style.

Esh Kadosh has been in the headlines in recent weeks after a group of settlers left the outpost in an attempt to perpetrate a price tag attack on the neighboring Palestinian village of Qusra only to be apprehended and beaten by Palestinians who later passed them to the IDF.

Related stories:

At the heart of the settlement, Maayan Sear is running a very complicated mission of another sort – rolling sushi in all shapes in form for immediate delivery to hungry settlers in the area.

"It began last Hanukkah. We had a community potluck and everyone had to bring something," that was when she decided to teach her fellow settlers how to roll a sushi roll.

The sushi became such a local hit that when Inbal Zeev a fellow settler opened a hilltop bed and breakfast in Esh Kadosh she included sushi on the menu.

When people from neighboring settlements like Kida, Ahiya, Adi-Ad and Shvut Rahel started calling in and ordering sushi, the settlers at Esh Kadosh realized they were on to something and that was how Esh Kadosh Sushi was born.

The sushi and the bed and breakfast are part of larger attempt by the women of Esh Kadosh to rebrand the flashpoint outpost. The B&B is called Cottage in the Vineyard," Zeev explains. "We built so people from all over will come and see how beutifal Judea and Samaria are.

One the road leading to the 'cottages' Maayan is rolling sushi, kosher sushi of course. "It's working. People call to order platter fulls from all over the area," says Porat, Maayan's husband and sous chef.

"We always thought there would never be sushi beyond the Green Line, but it turns sushi is not just for Tel Avivians," he proudly adds.

By the way, we never got a chance to taste Esh Kadosh Sushi's menu because just as the camera man came to film Maayan rolling, a group of some 20 masked settlers were making their way to Qusra. By the time the sushi was done, we were documenting the sad result of their Qusra visit.