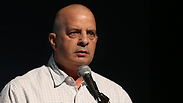 Diskin
Photo: Tzvika Tishler, Yedioth Ahronoth
Former Shin Bet chief Yuval Diskin eulogized both Ariel Sharon and Yitzhak Rabin on his Facebook page on Wednesday, and indirectly jabbed current Israeli leadership.

Diskin noted that both Sharon's and Rabin's "greatness was manifested in their attempts to bring about hope and change, and not just focus on political survival and spread slogans and scare."

Related stories:

Though he did not mention the Israeli-American public debate, sparked by comments attributed to Defense Minister Moshe Ya'alon about US Secretary of State John Kerry, Diskin suggested that since Rabin and Sharon, Israel has not seen a leader "that understands that peace is brought about by leaders who promote change and doesn't happen by itself, and that making peace is not only a 'blame game,' but an attempt to build trust."

According to Diskin, when he attended Sharon's funeral, he realized "that in the course of a decade, between November 1995 and the end of 2005, we've lost two great leaders who were so very different from what we're used to. It's a heavy price to pay – perhaps too heavy for a people and a state facing such tremendous challenges."

"These are two leaders who knew that by making the decision they made (Oslo Accords and the Gaza pullout), they were setting out on a dangerous and tumultuous road, while realizing that time is not on our side and that if we don't at least try to make plans for the future, we will be dragged behind, lose points, and eventually our future will be dictated in a way that will not allow the vision of the democratic Jewish State to be realized."