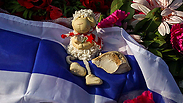 Sharon's grave, Wednesday
Photo: Avishag Shaar-Yashuv
Thousands of Israelis continued to visit Anemone Hill Wednesday, where former prime minister Ariel Sharon was laid to rest earlier this week. Among the many visitors were war veterans who fought alongside and under the command of Sharon, public figures and citizens who have crossed paths with Sharon over the years.

On Thursday afternoon, dozens of veterans of the 421 Brigade, which was the first armored force to cross the Suez Canal in the Yom Kippur War, have come to pay their respects. The brigade was headed by then Colonel Haim Erez and battalion commander Giora Lev, who later became the mayor of Petah Tikva.

Yehuda Tal, who was a deputy company commander during the war, said: "Arik was at the very front the entire time. He saw everything firsthand from the very first vehicle and didn't just hear about it on the radio. He literally instructed the bulldozers where to dig in the ground in order to allow the APCs to be brought down to the water. He was the only one who saw clearly those days, phenomenally, and knew that in order to win the war it was necessary to bring the battle onto the other side of the canal."

Related stories:

Standing above Sharon's grave, Tal added that already eight years ago he felt that Israel lost a great leader: "Perhaps not everyone agreed with him, perhaps he didn't always do everything democratically, but he was a leader that loved the country and worked for its benefit."

Yosi Regev, who commanded the first company that crossed the Suez Canal, added that Sharon sat in the fifth tank in line to cross the canal: "It was very impressive to see the general take action. His leadership and his calmness were what brought us to win the battle in 1973."

Regev added: "He wanted to be involved in every part, every decision, everything. It was hard and stressful for me, as a young commander, to face the great general and discuss every detail with him at the scene. After we crossed over, after one of the most tense and stressful nights of my life, Arik came to me with a huge smile on his face, hugged me, and said: 'You see Yosi, we did it, it's good I was with the all soldiers during all of this.' I can only smile and thank him for that."
Long line of visitors
The Anemone Hill and Sycamore Ranch witnessed many visitors Wednesday, including former Chief Rabbi Shlomo Amar, former Cabinet Secretary Israel Maimon, Netanya Mayor Miriam Fireberg and the parents of IDF soldier Adi Avitan who was kidnapped in Lebanon in October 2000, and his body was returned to Israel during Sharon's term in office.

"We were afraid at first when Sharon was elected prime minister, because we didn't know how he would treat us," said Ya'akov Avitan, the father of the kidnapped soldier. "But our concern disappeared. He turned out to be a great man and leader. When it was decided to declare Adi and his friends, Benny Abraham and Omar Sawad, as fallen soldiers with unknown locations of burial, he did not send over an officer to talk to us about it. We were informed about it in his very office. By him."

Sharon's grave was also visited by a group of women of the Bukharan Jewish Congress in Tel Aviv. At the same time, a group of young Air Force pilots arrived, honoring the former prime minister with several moments of silence.

Daniela Regev contributed to this report