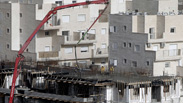 Settlement construction prompts rebuke of Israeli ambassadors
Photo: AFP
Israeli Foreign Ministry missions throughout Europe received calls from their European counterparts expressing their protest at Israel's plan to build additional settlements.

Israeli ambassadors in Rome, Paris and London were summoned to meetings in which European diplomats were expected to rebuke them for Jerusalem's announcement of tenders for some 1,400 new West Bank housing units. Ambassadors in Berlin and Madrid were also expected to receive similar invitations.

Last week the Housing Ministry issued tenders for some 800 housing units in settlements and 600 beyond the Green Line in Jerusalem.

Related stories:

The issuance was done in coordination with Prime Minister Netanyahu, who decided to hold off on the announcement until US Secretary of State John Kerry concluded his Mideast visit.

The publications caused a political storm both within Israel and with Palestinians. "In every aspect, it seems the world is losing its patience for us," Finance Minister Yair Lapid told Ynet following the report.

"No one is building; these are not construction tenders; these are construction announcements," Lapid insisted, adding that construction "does no one any good, including the settlements – because it's not happening. On the other hand it complicates the diplomatic process, and that's a mistake."

Lapid added: "I clarified my stance to the prime minister. I wouldn't say these things if I didn't. He has my support on diplomatic issues, but not on this. This construction will not take place."

The office of Palestinian President Mahmoud Abbas issued a statement in which it condemned Israel's intention to build more settler homes. "The recent announcement shows Israel's clear commitment to the destruction of peace efforts and the imposition of an apartheid regime," chief Palestinian negotiator Saeb Erekat said in a statement.

"(This) is a test for the US administration's ability to hold Israel accountable for actively sabotaging their efforts for peace."