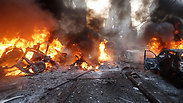 Beirut blast in December
Archive photo: AFP
A car bombing occurred Thursday morning near a government building in the town of Hermel, near the border between Syria and Lebanon, killing three people and injuring over 40.
The al-Qaeda-affiliated Al-Nusra Front fighting against the Syrian regime announced that its representatives in Lebanon are responsible for the deadly attack.
Related stories:
The organization stated that the attack was in response to Hezbollah's assistance to Assad's regime in the Syrian war.
Lebanon Now cited the statement issued by the group on Twitter: "By the grace of God, the headquarters of Iran's party (Hezbollah) in Hermel was shaken by a martyrdom operation (carried out by) one of Al-Nusra Front's lions in Lebanon in reply to the party's crimes against Sunni women and children in Syria."
"We call upon Sunnis in all parts of Lebanon to close ranks to face Satan's party, for we have found (the party) to be foolish and cowardly, foolish in its criminal estimations and cowardly as it puts its headquarters among civilians."
Last month, the Al-Nusra Front claimed credit for a rocket attack in the area of Hermel, in Lebanon.