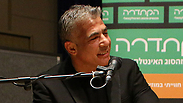 Lapid, Friday morning
Photo: Yaron Brener
In what state is the relationship between Yesh Atid chairman and Habayit Bayehudi chairman, why are the settlements still funded by the State and what will be their future – Finance Minister Yair Lapid addressed all of these pressing questions Friday morning at a Tel Aviv panel event.

When Lapid was asked about the issue of women's recruitment to the army and his past remarks noting that he would act to dismiss the chief rabbis for going against female IDF recruitment, he said: "I am not the minister responsible for (the chief rabbis), Naftali Bennett is." The interviewer then comically noted: "Our brother"; yet Lapid cynically replied: "He has been demoted to cousin," and stressed he believes Bennett should act on this matter.

"We are in an unprecedented struggle on the matter of equality of burden, and I don't think it is right for the rabbis to say they forbid women from serving in the army. This cannot be and we will act against it, unless they retract their remarks."

Related stories:

Lapid was asked about his opinion regarding the offshore bank account held by Prime Minister Benjamin Netanyahu in the island of Jersey, and responded: "Since the State comptroller said he would look into the matter, it is improper for the finance minister to address this issue beforehand."

In regards to the affair involving Rabbi Pinto and senior police officers, Lapid provided an interesting commentary: "On an economic level, I want to draw the attention to the fact that the three Israeli tycoons that were notorious for consulting with rabbis are Moti Zisser, Nochi Dankner and Ilan Ben Dov. What is common to all three, apart from consulting with rabbis, is that their empires fell apart."

Lapid added: "It saddens me to see Judaism turn into a combination of charms and interference in matters unrelated to them. If I have a rabbi, it's Rabbi Shai Piron. If you'd ask him what's the most rabbinical thing he ever did, it'd be adopting a disabled child, because that's what a true rabbi does. He doesn't sit with all sorts of high-ranked officers or tycoons and advises them on matters unrelated to Judaism or halacha." These mixes are not good."

Lapid stressed that he is not very familiar with the details of the affair but was hopeful that "the senior police officials did nothing wrong. I don't think it only stains the police, but the chief rabbinate as well. The mixing of these two areas is unfit."
'Get rid of Palestinians'
Lapid was later asked about the political negotiation and the document that will soon be brought to Prime Minister Benjamin Netanyahu by US Secretary of State John Kerry.

"There will be an outline to the framework agreement which will be discussed in the negotiations," Lapid said. "It doesn't mean you agree to anything, it doesn't mean we think Jerusalem should be divided. It only means that these subjects are under debate as well and we don't need to be the ones who are insubordinate."




"We say – peace is not the issue, we need to get rid of the Palestinians. It threatens us, it chokes us. Ultimately the State of Israel cannot continue on while unnaturally absorbing four million Palestinians. Eventually they will tell us, 'if you don't want to give us a country of our own, let us vote.' And then, if we let them vote, it will be the end of the Jewish state. If we won't let them – it will be the end of a democratic Israel, and I won't allow that to happen."

Lapid added: "We will have to pay a price for this breakup. The price now only means they will open up a series of issues within the negotiations, and then we will explain to what we agree and to what we disagree."

The finance minister showed his support of PM Netanyahu: "I'm in the coalition because this is where things get done. And Yesh Atid bolsters the negotiations and supports the prime minister because he is running them correctly. It is not going to be easy, and every time we're asked why we don't resign from the government, I'll say – to keep it going, not for it to end."

Despite the political vision he presented, Lapid explained that until the settlements are evacuated, they must be properly funded: "Most of the budget for the Settlements Division is transferred to the Galilee and the Negev. And no new settlements are being established. The agreement requires the evacuation of 80,000-90,000 settlers. It is not only going to change the country, it's going to change you and me. It will be the biggest Israeli drama since the State's establishment, in terms of what it does to us. It's going to be a drama that will tear us from the inside, but until that happens, there are people, good Israeli citizens, who live there, and I think it is perfectly fine to transfer money to continue their lives."

When asked about the remarks made by Defense Minister Moshe Ya'alon about Kerry, he said: "It is indecent. Give credit to the defense minister that he thought he was talking in a private conversation, but even in such conversation he shouldn't speak this way, and I am glad he apologized because that was the right thing to have done."