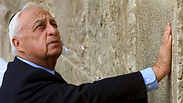 The United States on Friday criticized UNESCO, the UN's cultural arm, for postponing an exhibition about Jews and the Holy Land due to complaints from Arab member states.

The UN Educational, Scientific, and Cultural Organization, based in Paris, issued a statement saying it would hold off on the exhibition, which was to be called "People, Book, Land – The 3,500 Year Relationship of the Jewish People to the Holy Land," because of concerns that some aspects "might be perceived by member states as endangering the peace process."

The US ambassador to the United Nations, Samantha Power, urged UNESCO to rethink the decision on the exhibition, which UNESCO was organizing in cooperation with the Simon Wiesenthal Center.

"UNESCO's decision is wrong and should be reversed," she said in a statement. "The United States has engaged at senior levels to urge UNESCO to allow this exhibit to proceed as soon as possible."

Related stories:

"UNESCO is supposed to be fostering discussion and interaction between civil society and member states, and organizations such as the Wiesenthal Center have a right to be heard and to contribute to UNESCO's mission," Power said.

The UN agency said its secretariat received a letter from 22 states – the Arab Group – expressing their concern that "the planned exhibition could impact negatively on the peace process and current negotiations underway in the Middle East."

"In this context, regrettably, UNESCO had to postpone the inauguration of the exhibition," UNESCO said.
'Outrageous' decision
Rabbi Marvin Hier, founder and dean of the Los Angeles-based center, called the decision "outrageous," saying "they vetted every line in UNESCO. They know very well it doesn't interfere with the peace process, doesn't even talk about it."

"The last role that UNESCO should ever assume for itself is to be a place of censorship. As a result of this postponement of this exhibit, they have become censors, rather than an institution that invites new ideas."

Rabbi Hier told AFP he suggested the idea for the exhibition two years ago, when he was in Paris when Palestine was admitted as a UNESCO member.

He said UNESCO's director-general Irina Bokova came to Los Angeles and signed an agreement on the exhibition, to be funded by the Wiesenthal Center, which was subsequently put together in consultation with experts from the two bodies.

The show had been installed at UNESCO's Paris headquarters and invitations sent out to the opening next week, when the UN agency "unilaterally" announced its postponement.

The Israeli UN mission did not have an immediate reaction.

The Wiesenthal Center said on its website that it would hold a news conference in Paris on Monday to "show the media the exhibition UNESCO didn't want the world to see."

The US position within UNESCO has been weakened since it lost the right to vote last year.

The UN organization suspended the voting rights of the United States and Israel in November, two years after both countries stopped paying dues to UNESCO to protest its granting full membership to the Palestinians.

The White House has urged US Congress to resume paying dues in order to regain its vote.

AFP contributed to this report