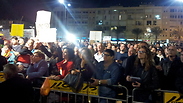 Protest in Tel Aviv, Saturday
Hundreds of people are protesting in the Tel Aviv Rabin Square, urging "social justice."

Protesters arrived at the Tel Aviv square to rally against "rising housing prices, increasing poverty rates and widening social gaps," according to Ivy Binyamin, one of the protest's organizers.

Related stories:

"After we marched the streets in 2011, a committee was formed to address the issues, new political parties were established, and we waited for a change that never came. On the contrary, things got worse,' he added.

Protesters at Rabin Square, Saturday (Photo: Yaron Brener)

Photo: Yaron Brener




Photo: Yaron Brener

"The State has become a poverty-stricken country and we are getting poorer and poorer," said Charlie Biton – one of the founders of the Israeli Black Panthers protest movement that seeks social justice for Mizrahi Israelis.

"Politicians tell us 'we are with you,' including the two that entered the Knesset with the intent to promote our protest, but do they care about the public? About housing?"

"Our parents had it hard, but they hoped things would get better; we make more money than they did and have it even harder – we know our children have no chance of making a home in this country," the protest flyer said.

"The State of Israel needs a prime minister that makes decent decisions… Israel has been hijacked by a group of banks, insurance firms and real estate companies," MK Ilan Gilon said.

MK Tamar Zandberg slammed the leadership saying that the people have realized that corruption is not only affiliated with criminals, but also with politicians.