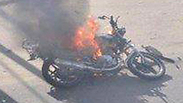 An Islamic Jihad terrorist and a Palestinian boy were wounded Sunday morning in a targeted strike by the Israel Air Force in Gaza City, following days of rocket fire on southern Israel.
Follow Ynetnews on Facebook and Twitter
Official Palestinian sources identified the two as a 22-year-old who was seriously wounded, and a 12-year-old boy who sustained moderate injuries. A Gaza emergency services spokesperson told AFP that the boy had been standing nearby when Israel fired on the the motorbike driven by the terrorist. He had suffered head injuries as a result, he said.
The IDF named the 22-year-old as Ahmad Saad, and said he was directly involved in firing rockets at Israeli civilian populations last week. He also played a large role in fighting the IDF during Operation Pillar of Defense in November 2012, and in the escalation of rockets fired at Israel in March 2012, the IDF Spokesperson said.
Saad "has been engaged in recent days in firing rockets at Israeli communities, and planning further rocket attacks,"the IDF said, adding that it had "acted to eliminate an immediate threat to Israel's citizens."
Related stories:
Rockets fired from Gaza at close of Sharon's funeral
Gaza's teens prepare for battle with Israel
Mortars launched from Gaza at IDF troops
"Saad was personally responsible for the rocket fire on Ashkelon on Thursday, and took part in high trajectory fire during Operation Pillar of Defense (in November 2012) and in the escalation in March 2012. In recent days Saad continued to plan high trajectory rocket strikes at the State of Israel," the army said.

Images from the immediate aftermath of the attack showed a motorcycle on fire surrounded by a crowd. The two were on the bike at the time of the strike, Palestinian sources said. The wounded were taken to Shifa Hospital in Gaza City.
The strike comes after the IAF attacked two terror hubs in the center of Gaza Strip overnight Saturday, which came after rockets were launched at Israel from Gaza on Saturday night. The IDF said that all the Air Force strikes were direct hits on the intended targets.
"Gaza terrorists must know that there is a personal price to pay when planning and executing terror attacks against Israel," said Lt. Col. Peter Lerner, IDF Spokesman, "There is no immunity for those that partake in projectile terrorism. The IDF targeted an integral component of the Gaza terrorist mechanism in order to diminish terrorist capabilities and send a clear message of intolerance to the aggression from the Hamas territory."
Defense Minister Moshe Ya'alon said in a statement that Israel "will move to attack anyone who threatens the lives of our citizens." He stressed that "we will not let anyone bring us back to the days when rockets were commonplace."
Ya'alon added that he sees Hamas responsible for the incidents taking place in Gaza and that if the organization will not impose its authority in the field, "we will continue to harm its interests."

The rockets fired at Israel landed in an open area between two communities in Sha'ar Hanegev; no injuries were reported. The rocket fire was the third such attack in one week.
On Thursday morning, several rockets were launched from Gaza in the direction of Ashkelon. The Iron Dome missile defense system is thought to have intercepted all the rockets.A short later, the IAF struck an underground rocket launcher, an ammunition arsenal, an ammunition factory and a terror hub in northern Gaza Strip. Five people were reported wounded in the strikes.

On Monday, two rockets were fired at the same area, a short time after Israeli and foreign dignitaries – including Prime Minister Benjmain Netanyahu and US Vice President Joe Biden – departed the northern Negev ranch where former prime ministerAriel Sharon was laid to rest.
There were no injuries or damages reported.
Matan Tzuri and Elior Levy contributed to this report