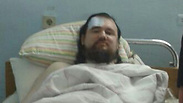 Dov Ber Glickman, who was assaulted Friday night
Photo: Hatzalah Ukraine
Anti-Semitic activity in Ukraine appears to be on the rise amid reports of another anti-Semitic attack Friday night.

Dov Ber Glickman, 30, a member of Kiev's Jewish community, was assaulted by three youngsters as he was making his way home from a Shabbat meal at Yeshivat Orach Chaim in the Ukrainian capital's Podil neighborhood.

After knocking him to the ground, Glickman's assailants stabbed him three times, apparently in his arms and legs. His screams apparently scared them off.

Racist Attack?

Young Jewish man says two officers assaulted him in Lviv police station, tried to extort money from him. 'When they discovered I was Jewish they made me sit on the floor and urinated on me,' he alleges

Bleeding, Glickman managed to make his way back to the main synagogue building, where the yeshiva is located, and collapsed at the mikveh (ritual bath). He received initial treatment at the scene, while the synagogue guard alerted rescue personnel who took him to hospital.

Hillel Cohen, chairman of the Hatzalah Ukraine emergency service, told Ynet that the victim had lost a lot of blood after suffering a wound to a main artery, and had lost consciousness. Glickman required surgery, and he is now in moderate condition.

"The frightening thing is that they arrived by car, and were apparently organized," said Cohen, adding that the entire community was shocked by the incident. "We will have to be much more alert now: Avoid sending children out alone, pay attention if we are being followed."
Second attack in area 'in same method'
The Shabbat attack has heightened the local Jewish community's sense of persecution, after a Israeli Jewish teacher was beaten up at the entrance to his building last week. Locals said the attack was in the same area and carried out in the same way as the assault on Glickman. The incident was defined as a clear act of anti-Semitism.

Cohen believes the rise in anti-Semitic incident is nor random, although he says the community has no idea whether it's one gang with anti-Semitic intentions or a multitude of incidents. The nationalistically-motivated protests against the Ukraine government may definitely have to do with the recent escalation, he adds.

"There were puddles of blood there," described Rabbi Binyamin Gottfarb, principal of the local cheder (traditional elementary school). "The community panicked, and throughout Shabbat there were discussions on how to handle this serious incident which is repeating itself week after week, in the same place and in the same method. It seems the situation is just getting worse."
Young man caught following yeshiva student
Cohen and Gottfarb added that on Saturday afternoon, several members of the Jewish community had spotted a young local following one of the yeshiva students. He was "writing down every street the yeshiva students walked on," Gottfarb noted.

They caught him, took him to the synagogue and called the police. "They asked him why he was following the yeshiva student, and the moment he started stuttering it was clear that there was something wrong with him."

"In his pocket they found a booklet with sketches of the streets near the synagogue," Cohen added. "The police arrested the guy, but we're concerned because it already looks like a method. They young man who followed the yeshiva student appeared to be neat and organized."

According to Cohen, "We already felt the anti-Semitic atmosphere heating up several weeks ago. I was asked to talk about peace between the citizens in front of half a million of protestors at the square, alongside a priest and a mufti. But the government is responding slowly. Let's hope for the best."

In his speech, Cohen called on Ukraine's residents not to harm its minorities, saying that "every day when a Jew prays, he asks for peace in the world. We have also spoken with the Muslims, and it's definitely forbidden under any circumstances that neo-Nazi or racist symbols be seen in this square, God forbid.

"This is a country that accepted everyone for 23 years now, and we hope it will continue in this way. Every year, hundreds of thousands of Jews from around the world come here to pray at the holy places, and for them this country is historically important. The great leaders of our nation grew up here, and we want to come and see a people leaving in peace. One people. It's important that we – the minorities living here – are not harmed."

But today the Hatzalah chairman and his friends feel real fear, he says, and they are demanding tight security for the synagogues, as well as patrols, "and most importantly, a firm hand against the anti-Semitism raising its head."
European rabbis: It's government's responsibility
Rabbi Pinchas Goldschmidt, president of the Conference of European Rabbis and the chief rabbi of Moscow, accused the Ukrainian government of showing dangerous tolerance towards recent anti-Semitic statements.

"The tolerance both on the part of the authorities and on the part of the opposition towards protestors in Ukraine, who made anti-Semitic statements during the protests, signaled anti-Semitic elements that it's okay to attack Jews and kill them, God forbid. We demand that the authorities defend Ukraine's Jews against these rioters, and eradicate any anti-Semitic phenomenon with proper determination."

Rabbi Goldschmidt added that he was praying for Glickman's speedy recovery and expressed his support for Ukraine's Chief Rabbi Dov Bleich, vice president of the Conference of European Rabbis, the head of the Torah and charity institutions and the local Jewish community in their "struggle to revive the Ukrainian Jewry."

Kobi Nachshoni contributed to this report