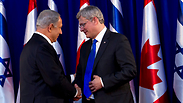 Netanyahu, Harper
Photo: EPA
Canadian Prime Minister Stephen Harper began his first official visit to Israel on Sunday, with his Israeli counterpart Benjamin Netanyahu hailing him as a "great friend" of the Jewish state.

Canada is one of Israel's staunchest allies and was one of the few countries that opposed a successful Palestinian bid for upgraded status at the United Nations in 2012.

Harper's plane touched down at Ben Gurion airport at the start of his four-day visit, a spokeswoman for the Canadian embassy in Israel told AFP.






"Today, for the first time, a great friend of the State of Israel, and a great friend of mine, is visiting Israel," Netanyahu said in a statement, welcoming the arrival of the first Canadian premier since 2000.

Related stories:

"Under Stephen Harper's leadership, (Canada) has taken a moral and steadfast position against attempts to delegitimize the State of Israel.

"Prime Minister Harper has expressed a clear, brave and moral stand regarding the truth and in regard to the standards that the international community needs to adopt regarding the State of Israel and the conflict here," he said.

Netanyahu's effusive remarks were made just days after he slammed the European Union over its "hypocritical" stance on the conflict after several member states summoned the Israeli representatives to complain about its recent settlement announcements.

The two prime ministers were to meet later on Sunday then have dinner, together with their wives.

During the visit, Harper will on Monday address the Knesset then travel to Ramallah for talks with Palestinian president Mahmud Abbas.

On Tuesday, Harper, who is accompanied by several cabinet ministers, will meet President Shimon Peres and attend a joint session of the Israeli and Canadian governments.

Harper will discuss trade and security matters, including "persistent threats posed by the Iranian regime, the ongoing instability in Syria and the Middle East peace process," his spokesman Jason MacDonald told reporters in Ottawa on Friday.

In April 2013, Canadian Foreign Minister John Baird sparked Palestinian anger after he met an Israeli minister in east Jerusalem, deliberately breaking a widely-observed diplomatic taboo.