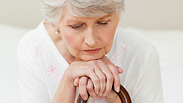 Falls are a leading risk to the health of individuals aged 65 and older
Photo: Shutterstock
Falling is one of the leading causes of injury for the elderly, and fall-related treatment costs the US at least $75 billion a year. Such unexpected falls are a common cause of broken bones and loss in quality of life, as well as shaking seniors' confidence to live independently.

Now a new orthopedic shoe being developed in Israel will give the elderly a chance to walk out in the world with more confidence in each step.

Golden Age?

They're lonelier, sadder and suffer from more chronic diseases than fellow Europeans. Israel's elderly citizens are much less satisfied with life, survey shows

The B-Shoe is a device that would extend the amount of time that elderly people can live without canes and walkers. Built with pressure sensors in the sole of the shoe and a small roller device in the heel, it gives the elderly peace of mind by automatically correcting any imbalance as they walk.

When the shoe's computer senses the center of gravity of an individual moving backwards, indicating an imminent fall, it rolls back one shoe a few inches to steady the persons balance. This "rollback" mimics the natural back step that a person without a balance problem would take.

"Older people are slow to realize that they are losing balance because their sensory system is weak and not as sensitive," co-founder and CEO Abraham Stamper told The Media Line. "The analysis and the reaction is slower, and sometimes they don't have enough power in their muscles to respond in time. If they make a right correction then the fall will be corrected, but if they try to correct and fail, they could fall in any direction."

Falls are a leading risk to the health of individuals aged 65 and older, affecting at least 40% of the population according to data collected by the company. Almost all injuries from falls in the elderly are from falling backwards.

More people fall backwards than forwards because the back has a much smaller footprint of support. While a person's base of support extends 6 inches (15 centimeters) in front of them, the base of support in the back is much shallower at one or two inches. This makes it much easier for someone to push their center of balance past the threshold in the back.

"What we say is very simple: You cannot do this backward step, so let us do it for you," Arale Shapira, another co-founder who focuses on business development, told The Media Line. "Once the shoe senses imbalance, a command will be given from the microprocessor to the driving mechanism and the shoe will roll backwards just a little bit, maybe an inch, not more."

While this movement may seem insignificant, it widens the base of support significantly and prevents the backwards fall. That feeling of confidence also gives seniors a confidence boost.

"It's a question of self-image," Professor Michael Soudry, the senior orthopedic surgeon at Hillel Yaffe hospital, told The Media Line. He has worked with the B-Shoes developers in testing the device.

"Many people, when you ask them to have a cane, feel a deterioration of their self-image. So if you can give them something that can contribute to the health of their minds, it would be nice. The cane or the walker is doing the same thing, it's an enlarged surface of stability," but with a stigma attached to it.
'Life is movement, and movement is life'
The device has undergone rigorous testing in a laboratory located at the Tel Hashomer hospital near Tel Aviv in preparation for the mass production of the product. Despite a few initial bugs, both Stamper and Shapira say that the device has performed remarkably well in the lab. For those who have tested it, the device offers a look into what the future could hold.

"I think it's much nicer to walk like a normal guy with some device in your shoe, and not with a walker or something that makes you different from the rest of the people," said 79-year-old Arnon, a farmer from northern Israel who tested the shoe. "When you are going with the walker or something, there is a stigma, you are an old guy. If you are walking with some shoe, nobody will look at you different from the rest of the people. I think it is magnificent."

Current test subjects for the shoe do not have balance issues, but are put on a special platform that is made to shake up their balance. The subjects are strapped into an anti-fall harness, and computers record data of how the machine is reacting to the person's movements.

Stamper and Shapira hope that the device, which right now is built into handmade prototypes that are large and heavy, will eventually be able to pop into the heel of most regular shoes to make it more inconspicuous.

The shoe will not come cheap, with cost estimates at about $500. If the shoe proves popular, the founders dream of one day having insurance companies give rebates for the shoe in exchange for the benefits of reducing the probability that their customers will fall and injure themselves.

But those who have tested it agree that the price is worth it.

"Wearing a special shoe is nothing," Arie Leider, a former engineer and a tester of the shoe, told The Media Line. "The moment that you don't need a stick or a special device, allowing you to continue to have a young spirit and a good quality of life, you take the shoe. The problem is a question of security, and the shoe gives you security."

The B-Shoe holds promise to change the way that the world looks at the elderly. And in the end, the removal of stigma could itself increase the vitality of one of the most vulnerable populations.

"Life is movement, and movement is life," Soudry said. "So when you provide someone with the ability to be more ambulant it is very important for their health. If we keep moving, we have a better chance to live. If we don't move, we go straight backwards."

Article written by Rye Druzin

Reprinted with permission from The Media Line