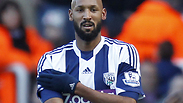 Anelka performing the 'quenelle' in December
Photo: AFP
West Bromwich Albion striker Nicolas Anelka was charged by England's Football Association on Tuesday for performing a racially aggravated gesture considered to be anti-Semitic while celebrating a Premier League goal.

The former France international, who faces a minimum five-game ban under the FA's anti-discrimination sanctions, has until 1800 GMT Thursday to respond to the charge.

Related stories:

The gesture, which is known in France as a "quenelle" and has been described as an "inverted Nazi salute," was performed by Anelka in the Dec. 28 game against West Ham.

It involves pointing one straightened arm downward while touching the shoulder with the opposite hand, and was popularized by a French comic whose performances are considered anti-Semitic.

Dieudonne M'Bala M'Bala denies anti-Semitism claims, but he has been convicted more than a half-dozen times for inciting racial hatred or anti-Semitism over the years.

This month, Dieudonne agreed to abandon a controversial show banned in multiple French cities after angering the Paris government.

Anelka said after the West Ham game that the gesture was meant to show support for Dieudonne, and it was "anti-system" rather than anti-Semitic.

It prompted outrage from Jewish groups, and West Brom's shirt sponsor announced it won't be renewing their deal when it expires at the end of this season as a result of the controversy.

The FA was widely condemned by Jewish groups for the delay charging Anelka, who had already agreed not to perform the gesture again but has not apologized and faces a lengthy ban.

"Anelka made a gesture which was abusive and/or indecent and/or insulting and/or improper," the FA alleges.

"It is further alleged that this is an aggravated breach ... that it included a reference to ethnic origin and/or race and/or religion or belief," the FA added.

A three-person FA independent regulatory commission will deal with the case.

Anelka is one of the most talented and controversial players France has produced since Manchester United great Eric Cantona. After growing up in a Parisian suburb, Anelka started his career at Paris Saint-Germain and was quickly spotted by Arsenal manager Arsene Wenger, who signed him in 1997.

Known for his immense technical skills, Anelka played a big part in the Gunners winning both the Premier League and the FA Cup but missed out on a place in the France team that won the 1998 World Cup.

Anelka's sometimes nonchalant attitude and apparent lack of commitment to the team started to anger the Arsenal fans, who gave him the nickname "Le Sulk."

Anelka then joined Real Madrid, where he won the Champions League, before moving to PSG, Liverpool, Manchester City, Fenerbahce, Bolton and Chelsea, where he won the Premier League title.

Anelka caused the biggest controversy of his career representing France when he was sent home from the 2010 World Cup after insulting then-coach Raymond Domenech in the dressing room.

His reputation reached its nadir, but the stubborn Anelka refused to apologize and ended his international career in the wake of the scandal with 14 goals in 69 appearances.