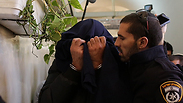 The gas technician after his arrest
Photo: Ohad Zwigenberg
The technician arrested after a gas explosion in a Jerusalem residential building killed three members of the same family was released Tuesday, as police called for the probe into the blast to extend to the management of the Supergas company.
The still-unnamed technician was arrested shortly after the blast on Monday, on suspicion of negligence. But on Tuesday, the Jerusalem District Court ruled in favor of an appeal against his detention, despite objections from the police. The technician was arrested after it emerged that he had given the all-clear for a suspected gas leak hours before the explosion. He is prohibited from visiting the site unless instructed to do so by police.
Related stories:
The technician's superiors are also expected to be face questioning, and police told the court Tuesday morning that the company's executives could be culpable in the deaths of Avraham and Galit Tofan and their two-year-old son, Yoseph.
According to the police, Avraham Tofan was the one to call the gas technician to the building in Gilo. Magen David Adom personnel treated 14 other people at the scene of the explosion, including a woman who sustained serious injuries, and an elderly couple who were moderately hurt.
"The Supergas company needs to be investigated," a police representative told the court. "The managers and employees should be taken in for questioning, and the issue of security and training for technicians examined. We have received information that his (the technician's) conduct was unacceptable. This is not the way an employee of his level should have behaved."
The technician's lawyer, Yehuda Shushan, told the court that, "There have been some developments in the investigation. There might be another cause of the blast that does not have to do with the technician, or with his employers. We know that a reenactment is being planned and that they want bring him to the apartment in handcuffs. This is degrading."
In his decision to release the technician from custody, Judge Rafi Carmel said that, "the leak had most likely existed for a long time, and the respondent was not the first gas technician to visit the site."
"He is in crisis," said relatives of the technician. "His world has collapsed. He only went to do his job," they said.
The relatives say that the technician is being made a scapegoat. "He is not a charlatan, he is an employee of the company. We, as friends and family, feel pain for what took place there."