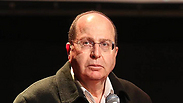 Defense Minister Moshe Ya'alon spoke at the event
Photo: Gil Yohanan
Hundreds of commanders, soldiers, and alumni of the Netzah Yehuda Battalion – a haredi unit in the IDF's Kfir Brigade – convened Tuesday night for a ceremony marking the fifteenth anniversary of the unit's inception.

As discussions continue in a Knesset committee over a new draft law that aims to enlist more haredi men to the military, Defense Minister Moshe Ya'alon delivered a speech at the event warning against punishing young haredi men who do not enlist in the army.

"You have proven that it is possible to integrate military service with religious observance. It is important we allow young haredi men to enlist, but not through sedition, delegitimization, or coercion."

According to Ya'alon, the progress of the Nahal Haredi has proved the value of the mission and that it will lead to a growing integration of the Haredi sector into Israeli society.

Related stories:

He said: "We weren't sure of (Nahal Haredi's) success when establishing the battalion, but it has proved itself above and beyond anything we expected. I see in this battalion the most important path for young haredi men."

Ya'alon concluded by thanking the fighters: "When terror does not emanate from Jenin and Tulkarem, it is a result of your determined operations."

Battalion commander Lieutenant Colonel Telem Hazan couldn't hide his ebullience: "The battalion was the passion project of so many people and it was realized beyond all expectation."

Colonel Yonatan Bernski, who previously commanded Netzah Yehuda, added: "It is amazing especially in a society that doesn't always have much patience. There is an process here that is going in the right direction, connecting different parts of the people."

Rabbi Yitzhak Bar-Haim blessed the event with the Shehecheyanu, a common blessing said at celebratory events. He praised the soldiers, some of whom went against the wishes of their family when they joined the IDF. "Our aspiration is to live with unity and love, Netzah Yehuda is the symbol of that."

In an interview with Ynet, Battalion commander Hazan clarified that haredi men should not be enlisted by force. "80 percent of the soldiers here are haredi men who until the eleventh grade were studying at a haredi yeshiva, then dropped off."

He explained, "It's true that some of them did not have much success in life, but because of them we will thwart bombing and win the next war. They came to be fighters in an age in which every teen in Israel can easily avoid serving as a combat soldier."