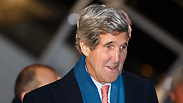 Kerry arrives in Geneva for talks
Photo: AP
Syria's foreign minister has accusing his country's opposition of being traitors and agents of Israel and says neighboring countries set Syria ablaze by sending arms and fighters to the civil war, during the Geneva II peace talks.
Foreign Minister Walid al-Moallem refused to give up the podium to UN Secretary-General Ban Ki-moon after his accusations against the Western-backed opposition "sitting in this room" and other countries present at the meeting in Switzerland.
Follow Ynetnews on Facebook and Twitter

Meanwhile, the Syrian opposition leader Ahmad Jarba said that there can be no talk of Syrian President Bashar Assad staying in power.

He accused Assad's forces of supporting al-Qaeda on the ground in Syria and called on Assad's government delegation to commit to the so-called "Geneva 1" agreement immediately and transfer power to an interim governing body.

Syrian Peace Talks

Analysis: Syria peace talks will reach an agreement on fighting terror, but will raise an argument on the identity of the real terrorists: Rebels or Assad regime

Syrians bear the primary responsibility for ending the civil war in their country, the UN secretary-general said Wednesday, opening peace talks that he acknowledged face "formidable" challenges. Ban Ki-moon called on the Syrian government and the Western-backed opposition trying to overthrow it to negotiate in good faith as they meet face-to-face for the first time.

"We know that it has been an extremely difficult path to reach this point. We have lost valuable time and many, many lives. Let me not mince words, the challenges before you and before all of us are formidable. But your presence here raises hope," he said in his opening remarks.




US Secretary of State John Kerry says there is no way that Syrian President Bashar Assad can be part of a transitional government that's being discussed at an international conference aimed at ending the country's brutal conflict.

Kerry said Wednesday at the conference that Assad has lost his legitimacy to lead after an "appalling assault" on his people and cannot regain that legitimacy.

Kerry said the meeting poses a serious challenge for the world as it marks the beginning of "tough and complicated negotiations." He urged countries present to unite around bringing an end to the suffering of the Syrian people.

Nearly three years after the start of their fierce civil war, Syria's opposing sides gather with world powers in Switzerland Wednesday for the most serious effort yet to end the bloodshed.

Meeting for the first time since the start of the conflict, the two sides could not be further apart as the "Geneva II" conference kicks off in Montreux on the shores of Lake Geneva.

Iran's President Hassan Rohani Wednesday slammed the participation of "supporters of terrorists" in Syria peace talks, saying this endangered the chances of the conference succeeding, Mehr news agency reported.

"All the signs show that we cannot have much hope that the Geneva II conference will find a solution to the problems of the Syrian people and the fight against terrorism," Rouhani said before leaving for the World Economic Forum in the Swiss resort of Davos.

"We also don't have much hope that this conference will be efficient in establishing stability since some supporters of the terrorists are participating in it," he added.

Syria's regime refers to rebels fighting to topple President Bashar Assad's regime as "terrorist groups" taking orders from foreign states.




Tehran has staunchly supported Assad's government during the conflict that began in 2011 and is estimated to have killed more than 130,000 people.

The opposition is heading into the conference with a sole aim - toppling President Bashar Assad - while the regime says any talk of removing the Syrian leader is a "red line" it will not cross.

So expectations are low, but top global diplomats gathered for the conference believe that simply bringing the two sides together is a mark of some progress and could be an important first step.




"It would be wrong to expect progress in the next few days in terms of major breakthroughs," British Foreign Secretary William Hague said on arrival Tuesday.

"Nevertheless, things can be achieved once diplomacy starts, once diplomacy is attempted -- we've seen that on many other subjects, including with Iran on its nuclear program."

The conference was to begin with formal speeches by UN leader Ban Ki-moon, US Secretary of State John Kerry and Russian Foreign Minister Sergei Lavrov.

The opposing Syrian sides are then expected to have their say, followed by representatives of the rest of the about 40 nations and international groups invited to Montreux.

No direct talks are expected until Friday, when opposition and regime delegations will meet in Geneva for negotiations that officials have said could last seven to 10 days.
Shiite, Alawite, Sunni divide
It took months of discussions to convince all sides to participate, with the main opposition group, the Syrian National Coalition, only agreeing at the 11th hour.
That move has seen the Coalition branded as traitors by some in Syria, including Islamist rebels who have often been at the forefront of fighting.
Pitting Assad's regime, dominated by the Alawite offshoot of Shiite Islam, against largely Sunni Muslim rebels, the conflict has unsettled large parts of the Middle East.
Shiite Iran and its Lebanese militia ally Hezbollah have backed Assad; the mainly Sunni Arab Gulf states have supported the opposition; and the violence has often spilled over into neighboring Lebanon and Iraq.
There were stark reminders of the conflict's impact in the run-up to the talks, with continued fighting on the ground and new evidence alleging that Assad's forces have systematically killed and tortured 11,000 people.
Three former international prosecutors said a defector had provided the evidence of starvation, strangulations and beatings, as well as pictures showing emaciated corpses with grisly wounds. One of its authors - the former chief prosecutor of the special court for Sierra Leone, Desmond de Silva - said it was the "smoking gun" proving "industrial-scale" killing by the Syrian regime.