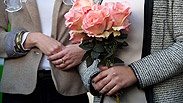 'Plenty of Jewish gay couples are interested in making a public commitment' (archives)
Photo: Benny Doutsh
VIDEO – Liberal and Reform synagogues across London are lining up to offer the very first same-sex Jewish marriages. They'll become legal in England and Wales from later in the year.

Jewish News One visited the West London Synagogue to meet Rabbi David Mitchell. He plans to be among the very first to marry his partner, and of course he wants to help other Jews tie the knot.

Video courtesy of jn1.tv

London is one of the world's biggest gay centers. But gay couples here have no way of getting married. However, that is set to change very soon. Under new legislation, gay marriage services can take place in England and Wales from March 29, 2014. And one of the very first in the queue to tie the knot with his partner is Rabbi Mitchell.

Breaking Taboo

Ron Yosef, who holds Orthodox rabbinical diploma, believes it is possible to be both homosexual and observant

"I think it's amazing," he says. "I think that first of all it's about acknowledging how far the UK community has come as a whole. And when you think back to the years when I came out, just before the millennium, and you look at how the world was then and the world now, it's a brave new world. So I think it's huge.

"And for the Jewish community as well we are in such a different place now in such a positive way, so I think this is really a welcome piece of legislation.

"I would like to be one of the first couples as of course would my partner," the rabbi adds. "We have been together for nearly 12 years, we were the first Jewish couple in the UK to sign the civil partnership register, to the best of my knowledge.

"We have had a Jewish ceremony in a synagogue but we have never been allowed to get married, and there are lots of couples like us who have been together a while and who just feel they have been denied possibly that final right, that final thing that says our relationship, our partnership, our friendship, all the things that we have together, are as good as anyone else's."

As well as his own wedding to look forward too, Rabbi Mitchell says he has plenty of other Jewish gay couples interested in making a public commitment in gay ceremonies he will host.

"I have had loads of people get in touch, a surprising number. We have got five couples confirmed who are currently in civil partnerships waiting to get married, and I will definitely be officiating in all of their ceremonies," he promises.

Although not a problem in liberal Judaism, gay marriage is not an option likely to be welcomed by the Orthodox community in London anytime soon. What advice does Rabbi David have for any gay couples who are Orthodox Jews?

"I think I would say to them to ask whether they can have their challah and eat it, because perhaps they can't, and therefore if they want to come and talk to us they are welcome to," he says. "The shift to an Orthodox rabbi officiating in an Orthodox synagogue at a same-sex ceremony for two Orthodox Jews, I would be amazed if it took place in my lifetime. But who knows? You know, the world has moved on."

It is a momentous social and religious change coming to the England and Wales, and it seems the liberal and Reform Jewish communities will be playing a key part.