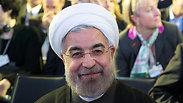 Iranian President Hassan Rohani addressed a panel of top global oil executives on Thursday as the Islamic Republic steps up efforts to win back investments from oil companies as part of its rapprochement with the West.

Rohani said that Tehran's relations with Europe will be normalized as the interim nuclear accord is implemented.

"I hereby announce that one of the theoretical and practical priorities of my government is constructive engagement with the world," Rohani said.

The Iranian president expressed hope of rapprochement with the West. He noted that economic sanctions are further destabilizing his country, instead of promoting peace, vowing that the country's defense strategy does not include nuclear development.

He insisted that his country would develop its nuclear program for peaceful purposes, noting that "40 countries have nuclear technology and Iran will not be discriminated against."

He said the "the key for peace in the Middle East is economic growth," stressing that focusing on economics without ethics will lead to destruction.

Rouhani promised to pursue a consistent foreign policy of "prudence and moderation" to revive the economy.

He called for cooperation with all Iran's neighbours but did not mention Gulf rival Saudi Arabia by name and refused, when pressed twice,

to include Israel among states with which Iran sought friendly relations.

Israeli Prime Minister Benjamin Netanyahu, who was in Davos but not in the hall during the speech, said afterwards that Rouhani's soft words bore no relation to reality, citing Iran's military role in Syria and its support for the Palestinian Hamas movement which seeks Israel's destruction.

"Rouhani continues Iran's deception show," Netanyahu said.

"The goal of the Iranian ayatollahs' regime, that hides behind Rouhani's smile, is to ease sanctions without giving up their programme to produce nuclear weapons," he said, urging the international community "not to be duped".

Tehran wants Western oil companies to revive its giant ageing oilfields and develop new oil and gas fields once sanctions are lifted and is improving its oil investment contract in order to lure them in.

The major OPEC producer has started implementing a nuclear deal with world powers, a step towards a broad settlement which could lead to the end of sanctions.

Western sanctions imposed on Iran for its nuclear program have choked Tehran's production – output is down a million barrels per day (bpd) since the start of 2012 to 2.7 million bpd – costing billions in lost oil revenue.

Top Iranian officials say the country can raise production to 4 million bpd within six months of sanctions being lifted. Western experts are more conservative, saying 3 million to 3.5 million bpd is more likely.

Encouraged by a preliminary nuclear deal struck between Iran and Western powers in November, Tehran and Big Oil have wasted no time making contact, in the hope of a full lifting of sanctions.

Paolo Scaroni of Italy's Eni was the first Western CEO to meet publicly with Iranian Oil Minister Bijan Zanganeh, on the sidelines of a meeting of the Organization of the Petroleum Exporting Countries last month.