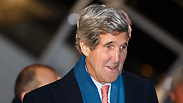 Kerry: Iran must stop supporting terror
Photo: AP
In an exclusive interview to al-Arabiya, US Sectary of State John Kerry commented on Syria, Iran and the peace process, during which he slammed Iran for supporting terror and promised the military option still on the table should Iran backtrack from the Geneva deal.

Syira was the main focus of the interview, but Israeli-Palestinian peace talks were not forgotten, and thus, despite his best efforts, Kerry revealed some details on the secretive talks being conducted.

After being asked what he meant by a 'framework' agreement between the Palestinians and Israelis, Kerry responded: "The framework agreement would be the best thinking of both parties as to what an end game of a peace agreement could look like, and what they would agree to as a matter of principles as to how they would negotiate towards that end game final status agreement."

Elaborating, Kerry said such an agreement "could help create a guideline if you will - a road map - that doesn't take you to an interim agreement but to a final status agreement, where you have an end of conflict, end of claims, there is a Palestinian state, there is an end of the occupation, security for Israel is clear and people can see the future."

When asked about that rumors that such a deal would be presented within a month, Kerry said "I'm not sure when it will be. We are still negotiating. We are working in good faith, the leaders have been very very committed to this process. My hope is that we can achieve a framework for final status negotiations."

Asked about his motivation to reach make peace in the Mideast, Kerry said: "Every where I go in the world almost the first thing people say is 'what can you do about making peace between Israel and the Palestine.' It has confounded people for ages.

"If we don't succeed in making peace the risks for everyone is greater, the risk of confrontation, the risk of violence, the risk of continued conflict in another generation, Israelis threatened from rocket that come from Gaza, these are things we are unwilling to live with."
Iran 'state sponsor of terror'
Regarding Iran, Kerry said "What Iran needs to do is show more than words, but its actions must show it is willing to join the international community. Iran has (Revolutionary Guard) personnel on the ground in Syria conducting military affairs on the ground.

"Iran is the principle supporter of its client terrorist organization called Hezbollah , Hezbollah is not just in Lebanon. Hezbollah is the principle difference the fighting taking place on the ground in Syria."

According to al-Arabiya, Gulf States are concerned by Iranian ambitions and proxy clients, from Hezbollah to Yemen. Kerry responded that "Iran is a state sponsor of terrorist, Iran is the sponsor of Hezbollah, we do not agree with that nor do our friends but you have to take one step at a time, this is diplomacy."

Kerry was asked if the US would ask Iran to stop arming Hezbollah? "Absolutely, we believe they should stop supporting Hezbollah, Hezbollah is a terrorist organization and they should not support terrorism in the region."

When asked about the US's dramatic shift in its relations with Iran and the effect it could have an US allies who now feel abandoned, Kerry said "We are extremely diligent to working with friends in the region, I have just made my 13th or 14th visit to the region," Kerry said, saying he visited Israel, Jordan and Gulf states to keep the parties updated.

"We are talking with Iran about a nuclear program, that's all. We're trying to prevent Iran from having a nuclear weapon which would change the balance of power in the region. This is in the interest of our friends. I know the (Gulf States) Egypt and Turkey are safer today then they were before we made the agreement."

Should Iran backtrack on its commitments, "then the military option that is available the the US is ready and prepared to do what it would have to do. So I don't think that is a wise choice for Iran. Iran will not have a nuclear weapon. We will not make a bad deal, a bad deal is worst than no deal."