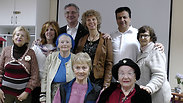 Adler during visit
Photo: Courtesy of David Levi, Yad Ezer La'Haver organization
Candian MP Mark Adler, who arrived in Israel as part of Canadian Prime Minister Stephen Harper's delegation, visited the Yad Ezer La'Haver (Helping Hand to a Friend) Holocaust survivor center, where he discovered a picture of his cousin distributing food in Ghetto Lodz. A deeply moved Adler gazed at the picture while shedding tears, and then proceeded to hear stories from survivors.
An exhibition held at the support center shows pictures from different camps and ghettos, including one picture that featured Adler's cousin, Helen Himmel.
Related stories:
Adler said that his father Abraham lived in Ghetto Lodz and was later deported to Auschwitz. He survived, and from there fled to Canada. I am the first MP ever in Canada that is a son of a Holocaust survivor, said Adler.
Adler said that the picture of his cousin was taken when she was 19 years old, and that she passed away two years ago. "I saw pictures of her in a book about Ghetto Lodz in the past, but seeing it here is really exciting," said the MP.
According to him, it was both moving and very painful. He said he wanted to visit the institution in Haifa because of his personal connection to the Holocaust. "I deal with this a lot, both in Toronto and in Israel," he said, adding that he is in touch with institutes that work to preserve the memory of the Holocaust.
After he finished looking through the exhibition, Adler met with Holocaust survivors living in the center and heard their stories. Among the speakers was Lia Shlack (94), who moved to Canada after the war and later immigrated to Israel.
"I wish I could stay here for many more hours and listen to all their stories," Adler said. "These people each have their own unique experiences, and most of them are the last members of their family to survive. I am glad that this institution, that does so much for them, exists."
Shimon Sabag, founder of the Yad Ezer La Haver institution said: "It was a touching visit. He is a representative of a far-away country, a son of a Holocaust survivor, that stood here and wept.
"He said that he will be an ambassador for our organization in Canada – because it's important the world never forgets what the Jewish people went through."
Incidentally, The Canadian Press showed a different angle of Adler's visit to the country – in a visit to the Western Wall, he reportedly pleaded to pass the security barrier so that he could land a photo with Prime Minister Harper. "This is the million-dollar shot!", he was heard saying.