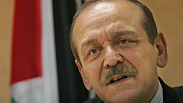 Yasser Abed Rabbo
Photo: AP
There are very few within the Palestinian leadership who are in the know regarding the negotiations with Israel. Senior Palestine Liberation Organization (PLO) official Yasser Abed Rabbo is one of them.

In a uniquely candid interview, Abed Rabbo reveals the details of US Secretary of State John Kerry's plans for the negotiations, while clarifying why the Palestinians have lowered their expectations regarding the current talks' success.

In an interview with Palestinian magazine Tariq, PLO's Abed Rabbo said that Kerry's plan includes security arrangements that would unfold over many years. These security measures would be joined by criteria that would depend on the improvement of the Palestinian security establishment. Israel would be the one to examine and decide whether the Palestinian security performance is adequate or not.

Related stories:

However, the US will take part and be present in the evaluation of the Palestinian Authority's security establishment so that Israel would withdraw and evacuate some of the areas in the West Bank, including the Jordan Valley. In addition, Israel would have security arrangements in mountain tops and in the skies. Israel would also maintain the right to perform live chases within the Palestinian country's territory if any threat dictates the need to do so.

Abed Rabbo explained that in fact all components of Palestinian sovereignty were taken apart and destroyed, and all components of the 1967 borders geographic unity were shredded to pieces.

He stressed that these ideas were completely unacceptable by the Palestinian leadership. Abed Rabbo argued that according to the Israeli perception, the large settlements that are not in settlement blocs should still be considered as part of them. He said that the Palestinians heard Israel is interested in either long-term leasing of what is left in the non-bloc settlements or to keep these settlements within the Palestinian country, along with maintaining the Israeli citizenship of those who reside there.

He noted that according to the Israeli approach, Jerusalem will remain under Israeli control, which will stretch, according to the Israelis, from the outskirts of Ramallah to the entrance to Bethlehem and the edge of the Jordan Valley. He noted there are formless and general talks regarding the Palestinian aspirations to have a capital city in Jerusalem.

According to him, the best scenario is to have the Palestinians offered a suburb of Jerusalem, such as Kafr 'Aqab or Abu Dis, and this territory would be dubbed The Palestinian Capital of Jerusalem. He added that there is talk of a limited return of Palestinians to areas of Israel.

Abed Rabbo further added that according to what the Palestinians know, Prime Minister Benjamin Netanyahu has also rejected Kerry's plan. According to him, Netanyahu is not interested in any Palestinian tie to Jerusalem or in the return of even one Palestinian refugee, and he is no interested in the existence of a third party, whether American or not, in the Jordan Valley security arrangements, even under full Israeli control.