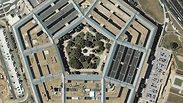 WASHINGTON – The US Department of Defense believes that the American intelligence agencies are not adequately organized or equipped to locate foreign forces that are developing nuclear weapons, or to identify countries increasing their existing arsenal.

An extensive research conducted by the Pentagon over the past three years also indicates an intelligence shortcoming in locating secret facilities, as in the case of Iran.

The detection abilities are "either inadequate, or more often, do not exist," says the report, which casts doubt whether the government can be sure of the US' capabilities to know whether Iran is breaching the interim nuclear deal.

Related stories:

The report was revealed two months before the third nuclear summit that is set to be in The Hague and is aimed to coordinate international efforts to expose abandoned nuclear materials, and to reduce the number of countries who can produce nuclear bombs.

The report's authors want of new nuclear countries after the Cold War. "Monitoring for proliferation should be a top national security objective – but one for which the nation is not yet organized or fully equipped to address," the report reads.

The New York Times reported that American officials first learned of a reactor in Syria, built with North Korean assistance, when the Israelis alerted them, noting that "Israel destroyed the facility in 2007".

The report cites two additional cases: The first is the case in which the CIA confirmed a non-existent Iraqi nuclear program, and the second case is the Western discovery of a North Korean nuclear reactor, which was revealed only after the North Koreans invited a Denver professor to visit it.

The Pentagon report's conclusion is that in the future there will be limited use of satellite images and other equipment for collecting intelligence. The Pentagon is offering to use an NSA-developed cyber program to locate distribution of nuclear equipment, by monitoring scientists and engineers' conversation and e-mails, and to search for nuclear-related technologies that would lead to new facilities.

The New York Times notes that the report does not name any specific countries that are under American surveillance because of their current or suspected weapons programs. But it is no secret that the United States spends enormous resources tracking Pakistan's arsenal, along with those of Russia, China, India, North Korea and Israel.