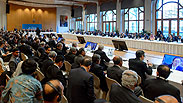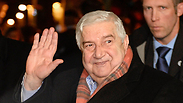 Syrian FM Moallem
Photo: AFP
Syrian regime and opposition meet face to face for 1st time
For first time ever, representatives of Assad's embattled regime met with Syrian rebels. Though there was no handshake and the two sides did not speak directly to one another, just the meeting is an achievement in such a bloody conflcit, diplomats said
The first face-to-face meeting between Syria's government and the opposition hoping to overthrow Bashar Assad started and ended after barely a half-hour.

After tense days spent avoiding each other and meeting separately with a UN mediator, Assad's handpicked delegation and representatives of the Syrian National Coalition gathered briefly in the same room, then emerged.

"The first session has ended – (UN mediator Lakhdar) Brahimi spoke for 30 minutes and none of the delegates said anything," opposition delegate Anas al-Abdah told reporters after the meeting.

The two sides entered and left the room through separate doors, Abdah added, and were due to meet again at 4 pm for talks on humanitarian issues.

He said Brahimi told them the first two days of the talks will focus on negotiations to lift sieges of civilians including in the central city of Homs, local ceasefires and humanitarian access, but the core of the negotiations should be about resolving the three-year conflict.

"He (Brahimi) told us this is a political conference ... based on Geneva 1," Abdah said, referring to a June 2012 communiqué which called for the establishment of a transitional governing body in Syria.

The two sides were distant going into the meeting, with the Damascus delegation denying it had accepted the premise of a transitional leadership, and the opposition saying it would accept nothing less.

"We have complete reservations regarding it," Information Minister Omran Zoabi said, comparing the proposal to the transitional government set up in Iraq by US occupation forces after they toppled Saddam Hussein in 2003.

"Syria is a state with institutions," he added. "A transitional governing body ... happens where the state is in disintegration, or has no institutions."

Opposition spokesperson Manzer Akbib said there was no handshake between the two sides. He noted that the "essence" of the conference, it's "platform" was a regime change there was a long way to go in terms of "ease" for citizens living without food and under daily bombing.

Humanitarian access for Homs, where rebels are surrounded in central districts by forces loyal to President Bashar al-Assad, could be agreed quickly.

"The practical aspects have been worked on. Things are ready and if the government doesn't put a block on it then it could happen quickly," a diplomatic source said.
No small accomplishment
The peace conference almost collapsed on Friday, the day face-to-face talks were meant to start, and was only saved after UN mediator Brahimi persuaded the two sides to focus on smaller issues on which agreement might emerge.

"We do expect some bumps on the road," Brahimi told a news conference on Friday after separate meetings with the parties.

With international divisions over how to end the conflict putting an overall political solution out of reach for now, the two sides will focus on small, confidence-building steps with no certainty negotiations will even last the week.

"Both parties will be here tomorrow...they will not leave on Saturday or Sunday," Brahimi said.

One diplomatic source, noting the caustic verbal attacks that marked the opening of the conference in the Swiss city of Montreux on Wednesday, said on Friday he had become cautious.

"Compared to 10 days ago, we've had Montreux with both delegations, this start in Geneva with an extra day's delay, tomorrow 30 minutes with the two delegations and then maybe a subject they can agree on. Small steps, but small steps are better than no steps."

"It's clear there will be hysterical episodes each day."

Diplomats have said even getting them to the same table can be considered an accomplishment three years into the uprising that left 130,000 people dead.

"We'll try our best to make it as successful as possible," said Anas al-Abdeh, a member of the Syrian National Coalition's negotiating team said before the meeting. Syrian Deputy Foreign Minister Faisal al-Mikdad said Saturday would focus on "modest ideas."

Officials said Friday that the sides will not sit in the same room for the start of talks in Geneva despite efforts by Brahimi to bring them together.

Brahimi spent Thursday in separate closed-door meetings with delegations from President Assad's regime and the opposition, trying to convince them to come together for their first talks since the start of Syria's civil war.

Reuters, AFP and the Associated Press contributed to this report