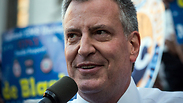 New York Mayor Bill de Blasio
Photo: AFP
New York Mayor Bill de Blasio caused a furor Friday after failing to inform the press of his attendance in a conference with AIPAC.

According to Capital New York, which first broke the story, "at the event hosted by the powerful lobbying organization, de Blasio gave a pro-Israel speech entirely devoid of his usual rhetoric about income inequality."

Capital questioned De Blasio about his failure to disclosure the comments after it obtained a recording of his AIPAC speech, leading De Blasio to promise to provide a "clearer understanding" of his schedule and speeches.

He noted that AIPAC wanted the dinner to be closed to the press, yet said he should have informed the press regardless, Capital reported.

According to the recording, de Blasio gave an impassioned speech in which he said: "There is a philosophical grounding to my belief in Israel and it is my belief, it is our obligation, to defend Israel, but it is also something that is elemental to being an American because there is no greater ally on earth, and that's something we can say proudly."

De Blasio took things one step forward and said that New York "City Hall will always be open to AIPAC. When you need me to stand by you in Washington or anywhere, I will answer the call and I'll answer it happily 'cause that's my job."

"There is no deeper connection across boundaries than this connection we share," the New York mayor also said.