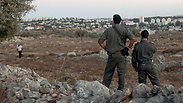 IDF Border Guard soldiers (illustration)
Photo: Gil Yohanan
Firearms were stolen Friday night from an IDF Border Guard base right under the noses of the forces.
Seven M16 rifles and a pistol were taken from the soldiers' lockers, and are now believed to be in the hands of criminal forces. An investigation is underway.
Related stories:
The circumstances of the theft are reminiscent of the Israeli cult film 'Under their Noses' (Mitahat La'af) based on a true story in which money was stolen from the safe of a police station.
Unknown men, who received intelligence information in advance regarding the arms, entered the base, and went straight for the soldiers' lockers. They then proceeded to dismantle and disarm the rifles and pistol before exiting with their loot.
According to assessments, the break-in itself took place in the dead of night with the base being guarded mostly by combat soldiers and orderlies. The theft itself was noticed only in the morning, when the soldiers noticed their lockers had been breached.
Investigators believe that the break-in was conducted at the instructions of underworld crime figures, in a bid to arm themselves for internal gang wars.
A large number of forces were alerted to the base in a bid to find both the thieves and the arms. An additional inquiry is being conducted to examine claims of negligence on the part of the soldiers.