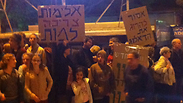 More than 400 people demonstrated Saturday in Kiryat Tivon, a town in the Haifa District of Israel, in protest against the intent to dismiss civics teacher Adam Verta, after one of his students complained to the education minister that Verta voiced "extreme leftist views" in his classes.
Receive Ynetnews updates directly to your desktop

The protesters demonstrated both against the silencing of voices and against the hearing procedure which they said was "unfair."
Related stories:
"This is a procedure whose outcome is known in advance and its punishment is known in advance," said Ziv Rozenzweig, who recently graduated from the Oranim teacher training college. "I think that teachers have to voice their views, both right and left, within the limitations of the Education Ministry. They should allow the voicing of opinions and encourage discussion. Voices should not be silenced."
Shlomo Levkowicz, the father of Uri, a student in Verta's class said: "He is a great teacher and the comments that he made have no detrimental effect on recruitment rates. On the contrary – students here want to contribute, recruit, and influence in the most significant way."
Levkowicz said he was more concerned about the manner in which the procedure was handled: "It might be because of some extreme source in Ort. The Education Minister sent them a letter from a student, and they immediately responded in outcry. Now they don't know how to get out of this.
"Tell me, the Education Ministry has been taking students on tours to Hebron for years. Isn't that political? Did anyone ever complain about that?"
The protesters held candles and carried signs against the silencing and for the freedom of expression. They chanted slogans against the CEO of Ort, the principal of the Kiryat Tivon school, and against Education Minister Shai Piron.
The story was first reported in wake of a letter sent by a 12th grader, Sapir Sabah, to Education Minister Shai Piron. In her letter, Sabah claimed that Verta had made negative comments about the IDF on numerous occasions.
According to her, Verta said that "the IDF is not the most moral army in the world and I am ashamed of it." She also claimed he said that the State belongs to the Palestinians.