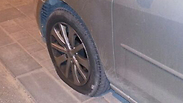 Slashed tire
Photo: Baruch Silver
Dozens of residents of the city of Lod protested on Saturday against the slashing of some 15 car tires in a religious neighborhood in the city over the weekend.

The Jewish protesters attributed the vandalism to Lod's Arab residents.




The Jewish neighborhood – Ramat Elyashiv – was formed amidst Arab neighborhood and has drawn heated local conflicts.

The residents found the cars were vandalized on Saturday morning and filed a complaint with the police as soon as Shabbat was over.

Municipal authorities paid for the repairs.

Protesters waved banners and cried out against what they defined as the beginning of violence that will most likely escalate. "Today it's cars that are damaged; tomorrow people will be hurt," one of the residents said.

"We expect police to find the perpetrators and that they face trial. We have no doubt the cars were not chosen at random."