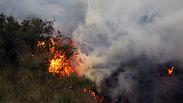 Wildfire in Torres del Paine, 2012
Photo: AFP
"We simply cooked tuna fish after the trip," says Daniel Banai, one of the four Israeli backpackers who were expelled from Chile's Torres del Paine Natural Park last week.

According to Banai, he and his friends were given a degrading and cold treatment by Chilean authorities, who in a moment turned them into "Israelis who tried to burn down the reserve."

"We arrived at the sleeping area after hiking in the reserve," 22-year-old Banai told Ynet. "We were very hungry, and when we asked one of the guards where we could cook, he pointed to a cabin and said that's where the kitchen is." When they arrived at the place, he explained, they met other travelers who were cooking. "We began burning tuna fish cans. Every soldier knows there's nothing like smoked tuna," but shortly after, a tourist decided to call the park's inspectors because "the Israelis are going to burn down the place."

Related stories:

According to Banai, "when the guards approached us, nothing could help. We tried talking to them in any possible language. We cooperated, gave them all of our details, but by then we already turned into the Israelis who are trying to burn down the reserve. Pictures and articles in the papers, rumors, endless slander and much hate were directed at us."

Two years after Rotem Singer, another Israeli tourist, was accused of causing a great wildfire that broke out in the national park, the four were detained on the same suspicions for a day. "We were interrogated for hours in Spanish using Google Translate," Banai recalled. "We waited for another 12 hours for a man to come in and tell us in English that we have been arrested on suspicion of attempting to burn down the park. We were treated like murderers."

After the local police released them, Banai and his friends got on a bus to Argentina, where they were once again detained by Border Police. "This time they told us we were trying to escape while there are legal proceedings held against us," he said. "They confiscated our passports and we were once again taken to a police station, where we were summoned to court."

After meeting with a local attorney, the travelers decided to sign a plea bargain and leave Chile. "We didn't fight for our innocence because we just wanted to leave this awful country," Banai concluded. "We didn't do break the law in any way."