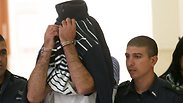 The suspected technician
Photo: Alex Kolomoisky
A Supergas technician, suspected of negligence causing an explosion that killed three members of the same family, is expected to return to work on Tuesday following a court ruling on Sunday.

The police are still investigating the circumstances behind the tragic event, and a significant amount of residents in the building that suffered the gas explosion are still living in hotels.

The technician's superiors are also expected to be questioned, and police told the court last week that the company's executives could be culpable in the deaths of Avraham and Galit Tofan and their 2-year-old son, Yoseph.

According to the police, Avraham Tofan was the one to call the gas technician to the building in the southern Gilo neighborhood of Jerusalem. Magen David Adom personnel treated 14 other people at the scene of the explosion, including a woman who sustained serious injuries, and an elderly couple who were moderately hurt.

The technician's attorney Yeuhuda Shushan said he did all the proper checks when coming to the building.

Related stories:

"Our claim, since the first day in court, was that he acted by the book and without any faults is becoming more and more correct as the days go by," Shushan said. The lawyer also said previously that Supergas had no problem with the technician going back to work in accordance with a court ruling.

The technician, taken into custody three hours after the blast, was released to house arrest last Tuesday.

"My conscience is clean and I acted according to regulations," he said at his release. "I share in the sorrow of the families, and I wish I would have been called to the apartment where the blast happened and I could have prevented it. I could have been hurt myself but I was called for a problem in a different apartment and I acted according to regulations there."

A week after the blast, the municipality's engineers declared 12 apartments in the northern part of the complex to be unsuitable for living.

One woman, who is still living in a hotel, couldn't believe it: "I still can't understand it. They said I could return home and I'm still in a hotel. I don't know how we can continue like this."

Isolated residents are expected to return to their apartments within the week, but there are still lots of repairs needed before they can move back home.

Residents in neighboring apartment buildings have still complained that they haven't had gas for a week.

"Every day we're waiting for the approval from someone else," Ilana said. "We understand the problem, and God forbid, we don't want another explosion, but all we want are official responses, not evasive ones."