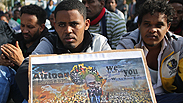 African migrants
Photo: Yaron Brener
Israel has granted political asylum to two Eritreans, the Interior Ministry said on Sunday, amid protests by thousands of other African migrants who accuse the State of denying them consideration as refugees.

The ministry said the sanctuary decision was unconnected to international condemnations of Israel, including from the UN refugee agency, of its treatment of some 53,000 Africans who have walked in via Egypt. It has branded the vast majority as illegal 'infiltrators' or job-seekers who must not stay.

Seeing a demographic threat to the Jewish state, Prime Minister Benjamin Netanyahu has vowed to remove the migrants and Israel has erected a fence along the once-porous Egyptian frontier.

Netanyahu's government is limited in its deportation options because most of the migrants are from Eritrea, where rights groups say they risk persecution if they return, or Sudan, an enemy with which Israel has no bilateral contacts.

To put pressure on them to go home voluntarily or move elsewhere, Israel has been corralling them in a desert facility and jailing those who refuse to stay there. It has also cracked down on their employers. Thousands of migrants have demonstrated against the moves.

Israel has granted asylum to the two Eritreans on the recommendation of the Interior Ministry's review board, spokeswoman Rivi Cohen said.

She declined to elaborate, citing privacy concerns, but said the men's cases had been considered "for close to a year" and were unrelated to a UN-backed campaign by African migrants to have their refugee claims heard more readily.

Reut Michaeli, a lawyer representing African migrants, said Israel still fell far behind other countries which recognized more than 60 percent of Eritrean asylum-seekers as refugees.

"The real difference is in the sincerity and the true desire to examine people's requests for refugee status," she told Israel's Army Radio.

Briefing journalists last week, Interior Ministry legal adviser Daniel Solomon said around 2,000 Eritrean and Sudanese migrants had left Israel voluntarily during 2013 with $3,500 cash handouts from the state.

He said the ministry was reviewing 1,800 asylum requests.

Israel had an offer from an African country other than Eritrea or Sudan to take in migrants, Solomon said, without naming it. He said Israel hoped for more such relocation deals in Africa but would not force migrants to go to a third country.