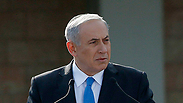 Benjamin Netanyahu
Photo: Reuters
An official in the prime minister's office says Benjamin Netanyahu believes Jewish settlers should have the option of staying in a future Palestinian state.

Sunday's comment expounded on Netanyahu's words over the weekend in Davos, where he told the World Economic Forum that "I do not intend to remove a single settlement, (and) I do not intend to displace a single Israeli."

Israel and the Palestinians are in the midst of US-led peace talks. More than 500,000 settlers live in areas the Palestinians hope will be part of their state. The working assumption is that most will be annexed into settlement blocs that will remain in Israel, with the remainder evacuated. But experts believe roughly 100,000 settlers live outside of these blocs, and their fate under any final peace deal is unclear.

Related stories:

The Israeli official said Netanyahu believes there is no reason to uproot them against their will.

"The prime minister believes that in peace, just as Israel has an Arab minority, there is no logical reason why the Palestinian state could not contain a Jewish minority and that Jews living in Judea and Samaria would be given the option to stay," he said. "It should not be accepted a priori that in peace the Palestinian state must be ethnically cleansed," a position the Palestinians reject.

Netanyahu's senior coalition partner, Habayit Hayehudi Chairman Naftali Bennet, responded to the statement attributed to Netanyahu's office, saying that: "the quoted statement is very severe and reflects an irrational loss of values."

"Two thousand years of longing for Israel did not go by so that we could live under the rule of Mahmoud Abbas, and whoever imagines Jewish life in Israel under Palestinian rule threatens our presence in Tel Aviv."

Deputy Defense Minister Danny Dannon (Likud) was also quick to respond, saying "I wouldn't condemn my greatest enemies to live under Palestinian sovereignty. Anyone who thinks Jews will live under Palestinian control in Judea and Samaria is welcome to go and visit Gaza to understand what 'tolerance' really means in the West bank. Wherever there is no military presence there will be no security for Jews."

Likud Beiteinu's Tzipi Hotovely also slammed the initiative: "A political agreement that would dispense with Jewish settlements in favor of Palestinian sovereignty would not receive the Likud's political backing. A commitment to not uproot settlements is not enough. It's important that Israel sovereignty is preserved."
Not a single Israeli
"Anyone who says he wants to keep settlers in the Palestinian state is actually saying that he doesn't want a Palestinian state," Palestinian negotiator Saeb Erekat said. "No settler will be allowed to stay in the Palestinian state, not even a single one, because settlements are illegal and the presence of the settlers on the occupied lands is illegal."

Last July, Palestinian President Mahmoud Abbas said that "In a final resolution, we would not see the presence of a single Israeli - civilian or soldier - on our lands."

Two days ago, in an interview with Palestinian magazine Tariq, one of the few people in the loop of peace talks currently being conducted, senior Palestine Liberation Organization (PLO) official Yasser Abed Rabbo claimed that all components of Palestinian sovereignty and the 1967 Green Line were being destroyed, including by an attempt to keep Jewish settlers in the future Palestinian.

Rabbo argued that according to the Israeli perception, the large settlements that are not in settlement blocs would still be considered part of them. He further said that the Palestinians heard Israel is interested in either long-term leasing of what is left in the non-bloc settlements or to keep these settlements within the Palestinian country, along with maintaining the Israeli citizenship of those who reside there.

He noted that according to the Israeli approach, Jerusalem will remain under Israeli control, which will stretch, according to the Israelis, from the outskirts of Ramallah to the entrance to Bethlehem and the edge of the Jordan Valley. He noted there are formless and general talks regarding the Palestinian aspirations to have a capital city in Jerusalem.

According to him, the best scenario is to have the Palestinians offered a suburb of Jerusalem, such as Kafr 'Aqab or Abu Dis, and this territory would be dubbed The Palestinian Capital of Jerusalem. He added that there is talk of a limited return of Palestinians to areas of Israel.

Abed Rabbo further added that according to what the Palestinians know, Prime Minister Benjamin Netanyahu has also rejected US Secretary of State John Kerry's plan.

According to him, Netanyahu is not interested in any Palestinian tie to Jerusalem or in the return of even one Palestinian refugee, and he is no interested in the existence of a third party, whether American or not, in the Jordan Valley security arrangements, even under full Israeli control.

Elior Levy and Reuters contributed to this report