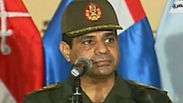 Abdel Fattah al-Sisi
Photo: AFP
In a move that is widely perceived as another step toward the swift election of Defense Minister General Abdel Fattah al-Sisi as Egypt's third president since the fall of Hosni Mubarak, interim president Adly Mansour has announced that the presidential election will precede a parliamentary poll.
According to a "road map" laid down after the army overthrew former President Mohamed Morsi last summer, parliamentary elections were supposed to be held first. But several political parties said they would not be ready for elections in the spring.
The decision comes after a violent weekend that left at least 49 Egyptians dead and more than 1,000 arrested during protests against the army by Morsi supporters. Islamists called for more protests in coming days as Egypt marked the third anniversary of the revolution that overthrew long-time autocratic leader Hosni Mubarak.
Related stories:
In a statement, the "Anti-coup Alliance" called for continued escalation of what it called "the current revolutionary wave" through 18 days of protests to "regain the revolution."
"Maybe there will be more clashes between the ousted Morsi supporters and the government," Abdelsatar Hetieta, the Cairo bureau chief for the Al-Sharq Al-Awsat newspaper told The Media Line. "But there will certainly be more repression."
The call for more demonstrations comes as Amnesty International issued a harsh report, charging that the Egyptian authorities are using every resource at their disposal to "quash dissent and trample on human rights."
"In reality, the current state of human rights is abysmal," Hassiba Hadj Sahraoui wrote in the report. "The Egyptian government will be judged by its actions, not its words. The authorities must allow peaceful protests and other avenues for lawful dissent."
The report finds that the human rights situation has deteriorated even further during the past seven months, since the government declared Morsi's Muslim Brotherhood a "terrorist organization." In August, more than 500 people were killed when the army broke up a pro-Morsi encampment.
In the three years since millions of Egyptians flooded into Tahrir Square and eventually forced Hosni Mubarak to step down, Egypt has gone through several political transformations. A temporary government headed by military generals gave way to the election of Morsi in Egypt's first genuine democratic election. In July, millions of Egyptians demanded that Morsi be removed. He was, and the generals returned to power.
Now, Egypt's popular defense minister Abdel Fattah al-Sisi seems poised to become the next president even before announcing that he intends to run. Sisi has become a hero for many Egyptians.
"He is simply adored here – I don't think there's another leader except Nasser who has so much support here," Maye Kassem, a professor of political science told The Media Line, referring to the popular Egyptian nationalist leader who headed Egypt from 1956-1970. "There are even chocolates wrapped with pictures of Sisi and his picture is shown everywhere."
She said that Sisi is young and charismatic and offers the best chance for stability in Egypt. Under the previous Islamist government of Morsi, there were shortages of gas and electricity, crime went up, and many Egyptians no longer felt safe. She said that support for the Islamists among the middle class has plummeted.
"The majority of Egyptians have never supported an ideology – they've supported competence," she said. "Now we have gas, we have electricity and crime is down. That is what Egyptians want."
Kassem said that a true transition to democracy will take time, following 30-years under Mubarak's control. However, she said she did not believe that Sisi, if elected as expected, would be an autocratic leader.
"People lost their lives in the fight to get rid of Mubarak," she said. "I don't think you can go backwards to authoritarianism. I think we are moving in the right direction. Stability must come first, and then democracy.
Article written by Linda Gradstein
Sherif Elhelwa contributed reporting from Cairo
Reprinted with permission from The Media Line
The Media Line