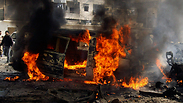 A bus explosion in Syria last month
Photo: Reuters
A Lebanese news website affiliated with the Christian Lebanese Forces and the March 14 Alliance news website reported late Sunday night that a loud explosion was heard in the area of Syria's port city Latakia.
Western media were reported as saying that the explosion came from an Israeli attack. Israeli security sources declined to comment.According to the sources, quoted in the Palestinian site Zamnpress, the attack was on an arsenal of S-300 rockets.
The circumstances behind the explosion are still unclear; however Syrian opposition sources confirmed that an explosion indeed occurred.
Lebanese reports on Sunday featured an abundance of hints to a potential Israeli intervention in the northern Levant.
Hezbollah's Al-Manar network reported Sunday morning that Israeli Air Force aircrafts were flying intensively in Lebanese airspace in the western Lebanon Valley, Beirut, Baalbek and Hermel.
It was also reported on Sunday by Voice of Lebanon radio station that IAF jets were scouring Lebanese airspace and hovering over the capital Beirut. Meanwhile, Lebanese El-Nashra news website reported that the IAF was operating in low altitude in the area of Baalbek in the Lebanon Valley.
Related stories:
The Lebanese army released a statement Sunday morning that two Israeli warplanes entered Lebanese airspace and flew in the country for over an hour.
In the past several months, Lebanese media reported on numerous IAF operations within Lebanese airspace. However, none of the cases included a strike on Lebanese soil.
Late October, it was reported that Israel struck in Syria. A White House official told CNN that IAF jets attacked the area of Latakia. According to the source, the target was rockets and rockets-related equipment that Israel feared would be transferred to Hezbollah. Al-Arabiya network claimed at the time that the Israelis also hit Damascus, where SA-8 missiles were destroyed.
In July, a Free Syrian Army spokesperson claimed that foreign forces have destroyed Russian-made Yakhont anti-ship missiles. It was further claimed that the attack was carried out with missiles from the sea.