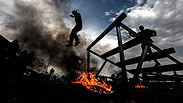 Hamas training camp
Photo: MCT
Recent indictments filed against Hamas activists have revealed the judicial war that the State of Israel is fighting against the terrorist organization in an attempt to retake control of civilian rule in East Jerusalem.
Indictments have been filed against main East Jerusalem Hamas members and other Palestinians helping out the organization seize funds for Hamas to preach its terrorist principles in the education, welfare and health systems in the city's region.
From the files, Hamas has shown a desire to take over East Jerusalem through force and through social programs, similar to how Hezbollah became so powerful and popular in southern Lebanon.
The files charge that Hamas has been organizing various religious activities, as well as educational and welfare programs in order to "bring the Palestinian population closer to Hamas's ideology, to fortify its hold on the population and to build institutions with the intention to advance and widen its circle of supporters."
In one of the indictments, the State Attorney's Office claim that in order to pull off these organizational activities, Hamas has established a sub-municipality that has even divided East Jerusalem into seven separate districts: Shuafat and Beit Hanina, Isawiya, Beit Safafa, Jabal Mukabar and Tzur Baher, Silwan and Sawana, Abu Tur and Wadi Joz.
In each district there is a local council run by Hamas that helps out the local population taking directive from top organizational leaders. These local councils are subordinate to an advisory council, also made up of regional Hamas members.
Related stories:
In 2010, the initial revelation of Hamas' center of operations in East Jerusalem was found. The headquarters consisted of 22 members, and was connected to other Hamas branches in Saudi Arabia and Turkey.
The Shin Bet subsequently raided the headquarters and seized hundreds of documents, including correspondence with the foreign Hamas branches, as well as secret conversations and budget books, which included detailed transactions and plans summing up in the amount of millions of dollars.
The court documents filed by the State also reveal how Hamas operated to try to convert the Palestinian population to its ranks. The terrorist organization gave out food to the needy, especially during holidays, supported educational institutions, including fundraising for schools, visited the families of martyrs and prisoners, gave Koran classes, hosted festive holiday meals, encouraged prayer in mosque – specifically in al-Aqsa – and ran summer camps.
Hamas appointed a fundraiser to be head of the committee for social matters, and another member, who became head of education for Hamas in Jerusalem, was responsible for the content of the organization's programs.
The indictments also reveal how members of Hamas' East Jerusalem headquarters met at Canada Park, in the center of Israel in the vicinity of Modi'in, during the month of October 2010 to discuss the activities.
Members of Hamas would ask merchants to transfer funds from Jordan to Jerusalem, in order to hide the money and not draw the attention of the authorities in Israel or Jordan, the indictments disclosed.