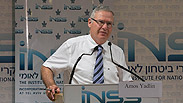 Maj. Gen. (res.) Amos Yadlin
Photo: Ohad Zwigenberg
Maj. Gen. (res.) Amos Yadlin, head of the Institute for National Security Studies opened the INSS strategic assessment conference by addressing the issue of the Jordan Valley.
"IDF troops should stay in the Valley to prevent weapon smuggling and entrance of terrorists into the West Bank," Yadlin said, noting that the State must "keep an area that would be used as a bargaining chip for future negotiations on a permanent agreement, and the civilians that will be evacuated from must be treated in the most appropriate and respected manner."
Related stories:
In his speech, Yadlin reviewed 2013, to which he referred as "very good," in respect to Israel's national security, due to the fact that, he said, a war did not break out, a military operation was not conducted and the borders remained quiet.
"Peace treaties with Jordan and Egypt have been carefully kept," he added. "The United State's firm support and security assistance has continued; The Syrian army is busy with its own matters and has greatly weakened; Hezbollah has lost is status in the Lebanese streets; the Muslim Brotherhood regime in Egypt has been cast out, the Hamas has considerably weakened and the Iranians reached an agreement for the first time."
Despite his optimistic tone, Yadlin remained hesitant concerning the near future. According to him, the Iranian nuclear program is Israel's only threat to its existence, but uncertainty will continue to haunt the State in other fields.
He added that the chance of reaching a settlement with the Palestinians is low, and that Israel has to follow the inclination according to which the US position in the region will weaken.
"The price of avoiding decisions will be greater than the risk of making them," he stressed. "The improved regional conditions allow Israel to take risks. Going forward with the Palestinian issue will help us promote our interests in the Arab world and against Iran."