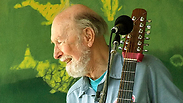 VIDEO - Pete Seeger, who helped create the modern American folk music movement, co-wrote enduring songs like "If I Had a Hammer" and in turn became a leading voice for social justice, died on Monday at the age of 94.

He was variously hailed in social and traditional media as a hero, America's conscience, and a man of the people. He also held an ambivalent if not down right contradictory position on the BDS movement, which works for a boycott of Israel.

Seeger died of natural causes at New York-Presbyterian Hospital, his record company, Appleseed Recordings, said.

Seeger was well known for his liberal politics, working as an environmentalist, protesting against wars from Vietnam to Iraq. He was sentenced to prison for refusing to testify to Congress about his time in the Communist Party.

In 2010, Seeger visited Israel for a concert in support of the co-existence oriented Arava Institute which works on joint Israeli-Jordanian-Palestinian environmental projects.

At the time, many pro-Palestinian organizations, including Adalah-NY, the New York Campaign for the Boycott of Israel, signed a petition calling on Seeger to withdraw from the Arava event, prompting Seeger to take a clear stand on the boycott movement.

"My stand is supporting the boycott of Israeli products. I don't know much about the artistic boycott taking place, but I understand the financial boycott. I don't think there will be a human race here in another 50 years unless the entire world finds a way to communicate - whether it's with pictures or music or food or sports. Words may come later, but we have to find a way to (talk) in some way," he said at the time.

When asked to clarify his position, Seeger told JTA that he "probably said" he supported the boycott, but added that he was still learning about the conflict and his "opinions waver with each piece of information" he received.

Regarding the Arava Institute event he said he though it was "very important," and added that such co-existence initiatives "should exist all over the world," JTA reported.

Some time before the Arava Institute event, JTA reported the Seeger claimed he was resisting calls from the BDS movement to cancel his participation in the event, citing the need for dialogue.

"I understand why someone would want to boycott a place financially, but I don't understand why you would boycott dialogue," JTA quoted Seeger as saying.
Celebrated career
In January 2009, Seeger performed at a concert marking Barack Obama's presidential inauguration.

He then celebrated his 90th birthday in May of that year with a concert in New York's Madison Square Garden that drew 15,000 spectators and performers, including Bruce Springsteen, John Mellencamp, Emmylou Harris, Arlo Guthrie, Joan Baez and Kris Kristofferson. Proceeds went an environmental group Seeger founded.

"Like a ripple that keeps going out from a pond, Mr. Seeger's music will keep going out all over the world spreading the message of non-violence and peace and justice and equality for all," Jim Musselman of Appleseed Recordings said in a statement.

Seeger and Woody Guthrie started the Almanac Singers in the early 1940s and in 1949 Seeger was a founding member of another key folk group, the Weavers. Those groups opened the way for Bob Dylan and another generation of folk music singer/songwriters in the 1960s and '70s.

The Weavers had a No. 1 hit with a version of Leadbelly's "Good Night, Irene" and by 1952 the group had sold more than 4 million records. The members soon drifted apart, however, after being blacklisted for links to the Communist Party.

Seeger and Lee Hays wrote "If I Had a Hammer" for the Weavers, along with the hit "So Long, It's Been Good to Know You".

Seeger also wrote the modern classic "Turn! Turn! Turn!" with lyrics from the Bible's Ecclesiastes and "Where Have All the Flowers Gone" with Joe Hickerson. But he was modest about his songwriting.

"Hardly any of my songs have been written entirely by me," he once said in an interview. "I swiped things here and there and wrote new verses" to old tunes.
Lost my heart to a banjo
Seeger, born on May 3, 1919 in Patterson, New York, was the son of two teachers at the famed Juilliard School of Music - his father an ethnomusicologist and his mother a violinist.

He became interested in folk music through his father, who directed family friend Aaron Copland to the music of West Virginia coal miners, resulting in the classical music works "Appalachian Spring" and "Fanfare for the Common Man."

Another of his father's friends was folk archivist Alan Lomax, who hired the younger Seeger to classify recordings at the Library of Congress in Washington.

A key moment in Seeger's life was attending a mountain dance festival in North Carolina with his father.

"I lost my heart to the banjo," he said later. "It was an exciting sound and there was a kind of honesty in country music that I didn't find in pop music."

In 1938, Seeger dropped out of Harvard University and took his banjo on the road. During his travels he met Guthrie at a benefit concert for California migrant farm workers.

Seeger's career was derailed in 1951 when a book listed the Weavers as Communists. During the next year, the group's record company dropped them and they were refused radio, television and concert appearances.

Seeger had been a Communist Party member but left about 1950. Still, he refused to answer questions from the US House of Representatives Un-American Activities Committee in 1955, was prosecuted and sentenced to a year in jail in 1961. The conviction was overturned on appeal but Seeger's career did not begin to recover until the Smothers Brothers invited him to appear on their television show in 1967.

Seeger spent the next two decades performing on college campuses, at folk festivals and political rallies.

Despite his impact on American music, Seeger won just one Grammy for an album, 1997's "Pete" in the best traditional folk album category. He also received a Lifetime Achievement Grammy in 1993.

In 2007 Springsteen won the best traditional folk Grammy for "We Shall Overcome - the Seeger Sessions," a collection of songs popularized by Seeger.

He was a founder of Clearwater, a group to clean up the Hudson River, and wrote children's books.

Seeger's wife Toshi, who he married in 1941, died in 2013. They lived in upstate New York and had three children.

Ayelet Yagil also contributed to this report