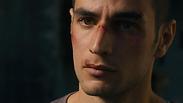 'Omar.' Director says plot inspired by Shakespeare's tragedy 'Othello'
The complexities and contradictions of the Middle East conflict come into play in both the real-life production story and fictional plot of "Omar," Palestine's contender for a best foreign language film Oscar.

The movie's director and lead actors are Israeli Arabs who identify as Palestinian. And while it depicts lovers literally walled-off by Israel's West Bank barrier, and a hero brutalized by Israeli secret police, the $2 million drama was filmed mostly in Nazareth, northern Israel, without hindrance.

Global Recognition

Palestinian director Hany Abu-Assad's 'Omar,' which presents Israeli security forces in unflattering light, awarded with 'Jury Prize' in international film festival

"Whatever we wanted, we could shoot. And this is a great attitude. I think they (Israeli authorities) were smart to do that, because every journalist will ask me, 'How was your shoot?' and I have no stories to tell," writer-director Hany Abu-Assad said in a telephone interview.

Such a conciliatory spirit is absent from "Omar", however – as elusive as actual Palestinian statehood in the West Bank and Gaza Strip, which world powers hope will emerge from peace talks with Israel.

The film looks at the grind of life under Israeli military occupation: A young Palestinian lethally lashes out at the army and is punished with pressure to spy on his own side or end up in prison with no prospects of marrying the woman he loves.

Betrayal, and the mistaken perception of betrayal, follow, with bleak and bloody consequences – a plot which Abu-Assad says was inspired by Shakespeare's tragedy "Othello."

"The problem of Othello was his insecurity. When you are insecure, you start to believe the unbelievable. When you are in paranoia, you can't make rational decisions," he said.

"I think we all have this moment in life - unless you live in this luxury where you don't have to live under extreme pressure - and then we feel the powerlessness of our existence. We Palestinians know that."
'Make the effort to understand me'
"Omar" is the second Abu-Assad film nominated for an Oscar.
His previous entry, the 2005 thriller "Paradise Now," depicted Palestinian suicide bombers sympathetically and infuriated many Israelis – some of whom complained to the Academy of Motion Picture Arts and Sciences. It did not win.
Almagor, an Israeli group representing those bereaved or wounded by Palestinian attacks, says it will lobby against "Omar" too. Abu-Assad thinks such censure is misplaced, especially as his latest film is less overtly polemical.
"The movie is really about what happens in your friendship and love when you do actions that can affect that and how you do the balance between your duty and desire," Abu-Assad said.
"A movie should show you what you don't like, also. I mean, we should discuss this," he said. "Nobody agrees with the actions of 'The Godfather', yes? But still we appreciate that movie because it lets us see the picture from a different point of view. If this will threaten your ideas, then there is something wrong with your ideas."
Like many among Israel's 20% Arab minority, Abu-Assad, 52, describes himself as Palestinian. Screening "Omar" in Tel Aviv, he declined to speak Hebrew, opting for English: "I want them (Israeli Jews) to do the same effort to understand me as I will do to understand them."
"Omar" had a $2 million budget, he said, 95% of it raised from Palestinian businesspeople and the rest from Dubai.
Israel's entry for the Oscars, "Bethlehem," which also deals with West Bank espionage, did not make the short-list.
"I am against how they (most Israelis) see this conflict," Abu-Assad. "They don't want to accept the idea that they are the occupier. But it ("Bethlehem") was very interesting for me. It wasn't just an entertaining and good movie. Politically, it was mind-opening."