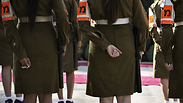 The IDF's top adjutants said they aren't interested in fighting with rabbis, but they will do everything else they can to keep raising the growing number of religious girls enlisting in the army.
"If they close the door on us, we know how to get in through the window," an official in the Manpower Directorate said Tuesday.
Not only is the army deliberately ignoring rabbis' instructions, young religious women are also choosing more and more to act against those guidelines.
According to IDF statistics in 2013, there were 1,616 new religious recruits compared to 1,503 in 2012. The 2013 number is almost double of the 2010 stat, 935 religious girls.
The IDF sources also said that not only are the numbers increasing, but the girls are choosing more difficult and significant posts. More and more are enlisting in the prestigious 8200 field intelligence unit and basic training squad commanders, among other noteworthy positions. Military sources said there was a similar trend about 15 years ago when religious-Zionist girls began to enlist into elite combat units.
Related stories:
Religious girls are permitted to decline army service and choose national community service instead. About 40% of girls aged 18 do not enlist in the army, while 36% of them receive their exemption through an affirmation that by being religious the army is not suitable for them.
The military is certain that many of the affirmations are false since all that is required is for the women to sign a form stating that they are religiously observant.
Army Radio (Galatz) reported recently that the Chief Rabbinate Council, led by Rabbis David Lau and Yitzhak Yosef, prohibited the recruitment of girls to the army, in any form, continuing the tradition of previous chief rabbis. As a result, Finance Minister Yair Lapid called to dismiss the chief rabbis.
The statistics show that the religious girls are enlisting from religious Zionistic schools. The connection is usually made in synagogue, or in social get-togethers, from girls that have served or are serving.
"Girls that have left the military see that army service isn't so bad," sources in the IDF said. "They don't become messed-up, they have the best conditions to keep their religion – and our studies show that they are succeeding."