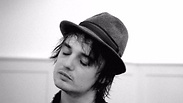 'Bad boy of British rock' headed to Israel
PR photo, courtesy of Naranjah
VIDEO – Pete Doherty, one of the greatest British icons of the 2000s, will visit Israel this spring for one show, which will be held on April 30 at Tel Aviv's Barby Club.

Doherty, the founder, lead singer and chief writer of the Libertines and Babyshambles bands, will perform songs from his solo career alongside hits of his different bands.

Tickets will be sold for NIS 195 (about $56) as part of the early sale, and will later go up to NIS 215 ($62).

Doherty launched his musical career in the late 1990s when he met Carl Barât, with whom he later formed the Libertines. The rock band's debut album, "Up the Bracket," was released in 2002, and the band quickly became one of the most popular and successful groups in Britain and even won Best New Band at the NME Awards for that year.

Hot Summer

Popular American singer to perform at Tel Aviv's Yarkon Park on May 28. Ticket prices to range from NIS 370 to NIS 1,450

Doherty was considered a highly esteemed and talented songwriter, but his serious drug addiction caused the band to split in 2004, after the release of its second successful album. Doherty went on to establish indie band Babyshambles, which released three critically acclaimed albums.

While working with the band, Doherty launched a solo career that has so far yielded the album "Grace/Wastelands," which presented a folk and quieter side of his personality and included a collaboration with guitarist Graham Coxon of Blur.

Doherty has been known as the "bad boy of British rock" due to his repeated arrests for drug offenses, car theft and driving with a suspended license. He spent a lot of time with late singer Amy Winehouse and was engaged to supermodel Kate Moss, who also participated as a guest singer in some of his solo performances.

In 2013, Doherty united Babyshambles to release the band's third album, "Sequel to the Prequel."

Doherty is being brought to Israel by production company Naranjah, which has been responsible for the arrival of artists like Brian Jonestown Massacre, Amanda Palmer and the Black Angels.