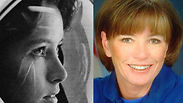 NASA astronaut Dr. Anna Lee Fisher – the "first mother in space" – visited the Ynet studios this week to discuss overcoming gender discrimination and the prospects of further human exploration into the final frontier.
She is in Israel as part of Israel Space Week, a collaboration between the Ramon Foundation - named for Ilan Ramon, Israel's only astronaut – and the Science, Technology, and Space Ministry to educate and energize the public.
Fisher was a mission specialist on space flight STS-51-A which circled the globe in 1984. For her first flight into space, Fisher trained as a new mother. She was an instrumental part of the team that tested the Space Shuttle and was heavily involved with the planning and coordination required for the International Space Station program.
She told Ynet that going into space "was the experience of a lifetime. It was incredible."
When asked about the future of human exploration of space, Fisher defended the need for continuing the space program and trying to land a team on Mars: "Going into space is important, I believe mankind was meant to explore, we need to push our frontiers."