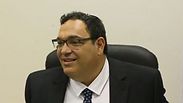 Shai Piron
Photo: Motti Kimchi
Education Minister Shai Piron commented for the first time on the furor caused by 'leftist' teacher Adam Verta who was accused of propounding anti-Israeli and anti-IDF views, saying the case was blown out of proportion.
Piron, whose silence on the issue inspired criticism, said that "it is wrong to fire a person because of ideological issues."
Adam Verta, a civics teacher at Kiryat Tivon's Ort Greenberg High School, caused a storm after one of his students complained about allegedly anti-Israeli comments he made as part of a civic involvement class. The Ort education system, which operates the school in which Verta teaches, summoned him to a pre-dismissal hearing.
Piron further said that "I don't assume that every child who hears some controversial statement in class needs to rush off to find psychological help, and I don't think that somebody that hears a statement about the value of education in the IDF decides not to enlist. Let's all just calm down a little. There are things that can be said and those that can't. What's the problem? Is this the reason for all this hysteria?"
Related stories:
This was Piron's first public comment on the story. At the beginning of the week, 330 teachers signed a petition slamming Piron's "deafening silence" on the scandal.
The story first broke when a 12th grader, Sapir Sabah, sent a letter to Piron claiming Verta had made negative comments about the IDF on numerous occasions.
According to her, Verta said "the IDF is not the most moral army in the world and I am ashamed of it." She also claimed he said 'viva Palestine.'
Piron reportedly responded to Sabah via email, and claimed it was the insitution's teachers doing the trampling.
"I very much disliked what I heard in (Verta's) hearing, and am glad that I didn't comment before."
Ort CEO Zvi Peleg said in response that the teacher's political opinions have no place in the classroom.
"During his hearing he confirmed that he does not think that the IDF is a moral army. He also confirmed that he told the students he participated in protests abroad and even shouted 'Viva Palestine.' I don't think that these are topics that should be discussed in civics class; needless to say he does not have the tools to decide if the IDF is moral or immoral."
Peleg further said that "I don't think that the students of Israel need to hear something like that from their parents. The Ort system encourages enlistment into the IDF, and we also gauge our principals according to the level of conscription of their students."
This is not the first time such an incident has taken place. The issue of teacher's political stance and what role it can or should play in a classroom has galvanized the debate over the borders of freedom of speech as well as polarizing the Left-Right divide.