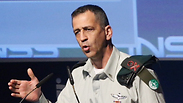 IDF intel chief Aviv Kochavi
Photo: Motti Kimchi
Sometimes, less is more: Military Intelligence Chief Brigadier General Aviv Kochavi said Wednesday that despite a drop in the number of missiles and rockets threatening Israel, their level of precision has drastically risen.

"Some 170,000 rockets and missiles are threatening the State of Israel from all regions. Up until recently, the number was much greater and it has decreased, but it will go up again.

"They are much more precise and a lot more lethal. The most significant thing we would like to point out is the fact that the enemy has the capability to land mass amounts of arms on Israeli cities," he said.

Addressing the issue of nuclear Iran, Kochavi noted that the Islamic republic "continues in a manner that allows for, if a decision is made, advancement and developing a bomb. At the same time, we are still facing conventional threat and still have the need to establish our power against militaries. They may not be in the highest level of competence over the past years, but they can regain it.

"There are also many terror groups, including semi-military terror groups. We can't keep referring to Hezbollah as a terror group in the simple sense of the term – an organization that possesses more than a 100,000 rockets, including hundreds of different kinds of advanced antitank missiles, advanced mortar shells can no longer be a referred to as a terror group in the simple sense of the term. And the same goes for Hamas ."

The brigadier general discussed the fact that the home is becoming a war-front, stressing that enemy-rocket fire would determine the nature of war as well as decision making policies in both sides. As long as the enemy possesses rockets that can reach all parts of the country, the enemy can keep running the war."

The military intelligence chief also discussed the increasing cyber threat, noting that over the past year, hundreds of attacks were targeting various organizations in the State of Israel, specifically defense targets. "Fortunately, most attacks were foiled, but the ability to carry out such attacks is almost unlimited."
Syria fallout
Kochavi told a security conference, presenting a map of the Middle East marked with areas of al-Qaeda presence, that al-Qaeda fighters from around the world entered Syria weekly, "but they do not stay" there.
The map showed three al-Qaeda bases inside Turkey.
A spokesman for the Turkish Foreign Ministry had no immediate comment, but Prime Minister Tayyip Erdogan has repeatedly denied Turkey is providing shelter or backing to al-Qaeda-linked groups in Syria.
Kochavi declined a request by Reuters to give specific numbers, but his spokeswoman said the map showed the relative strength and location of al-Qaeda bases, which appeared to be in the Karaman, Osmaniye and Sanliurfa provinces.
"Syria is projecting its conflict to the whole region. Those blotches (on the map) in Turkey are no mistake by the graphic artist and it is a short way from there into Europe," Kochavi said
Reuters also contributed to this report