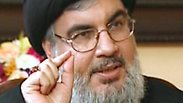 Hezbollah leader Hassan Nasrallah
Photo: AFP
Hezbollah is proving once again that its fight is not only against Israel, but is also focused on its own internal interests in Lebanon and Syria. After dispatching thousands of its fighters to the battlefields of Syria, on behalf of ally and sponsor Bashar Assad, who has sustained major military losses, it has now begun to support the beleaguered president by supplying him with unmanned aerial vehicles.

In November 2013, the Lebanese media revealed that security forces there had foiled a massive attack, involving a booby-trapped vehicle carrying 400 kg of explosives and other ammunition. The vehicle was discovered by seemingklhy miraculous means in the country's Bekaa region, an area under Hezbollah control, several hours before the start of celebrations for Lebanon's 70th independence day.

Related stories:

Lebanese security sources said that the organization had spotted the vehicle, and obtained information that it had entered the Bekaa region via the country's eastern border with Syria. "The organization is monitoring and supervising the border using drones at night," the sources said.

Beyond its deployment of drones on the Syria-Lebanon border, it appears that Hezbollah has stepped up its use of them as a tool in its struggle against political foes inside Lebanon itself. Samir Geagea, a veteran Lebanese Christian politician and senior member of the country's anti-Hezbollah March 14 Alliance, said this week that an unmanned aerial vehicle had spent several hours flying above his home in the village of Maarab, an area with many Christian residents.

Geagea, who was the target of an assassination attempt in 2012, told the Saudi-owned Al-Arabiya TV network that, "the murder preparations continue, and to my knowledge they will try to kill me, given the enormous implications this will have for the March 14 Alliance, and for Lebanese politics in general." Geagea did not expressly identify Hezbollah, but vowed: "They will not succeed."

He connected this attempt on his own life to text messages and threats sent to his wife, a member of the Lebanese parliament for the same Alliance, as well as to other political assassinations in the country. These killings include that of former Lebanese finance minister Mohamad Chatah, a well-known vehement critic of Hezbollah, in the heart of Beirut last month.

Geagea said that the Lebanese army had been unable to identify the origins of the drone over his house, but ruled out the possibility that it came from Israel, as the IAF was not given to operating in that area.

Hezbollah is believed to possess close to 200 Iranian-made drones, and some are, of course, destined for Israel. A proportion of those planes are set aside for one-way missions on strategic sites inside Israel, or IAF bases in the next conflagration. Hezbollah leader Hassan Nasrallah's drone collection includes a variety of models, among them "suicide" model aircraft that can fly at very low altitudes, evading Israel's radar systems.

The Israeli response to drone infiltrations is to deploy IAF warplanes, which have on at least two occasions managed to down Hezbollah's unmanned aircraft. The American-made "Hawk" surface-to-air missiles, long used by Israel, should help as well in this mission.