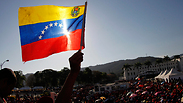 Venezuela's Jewish community has more than halved over the last decade
Photo: Reuters
VIDEO – In Venezuela, violent crime is prompting some of the country's citizens to seek a life abroad. The recent killing of the 2004 Miss Venezuela Monica Spear and her ex-husband in a gun attack on their car has brought into stark relief the security problems facing the country.

Among those leaving in large numbers are members of Venezuela's Jewish community, who say a lack of personal security, combined with growing anti-Semitism, makes life in the country too hard.

Video courtesy of jn1.tv

At home with his family in Hallandale Beach, Florida. Paul Hariton is one of about 260,000 people of Venezuelan origin in the United States. Born in Venezuela, he moved to the US 12 years ago, just after Hugo Chavez returned to power following a failed coup.

Exodus

Jewish community in Miami suburb of Aventura resembles very much one Jews left behind in Caracas, after fleeing government of late President Chavez. 'We passed the tradition from there to here,' one of them says as she prepares for Rosh Hashana

"I think the government is not friendly with Israel," he says. "It's not friendly to the Jewish cause."

Now living in a suburb of Miami, Hariton is an architect and property developer in the city's high-rise real estate market. Just north, the city of Aventura has become home to a growing population of Jews from Venezuela.

In the 1990s, some 25,000 Jews are thought to have lived in Venezuela. Today that number is estimated to be as small as 9,000.

"It's a big loss for the country because all my friends' kids who are here and going to Harvard and Yale and Stanford are going to be great professionals here, instead of going back as I did," Hariton says. "I went to school in New York, and when I graduated I went back to Venezuela. I worked there for almost 30 years. And that's its loss. That won't happen again."

Pynchas Brener used to be the chief rabbi at the largest Ashkenazi synagogue in Caracas. In that capacity he met with some of the world's leading political and religious figures.

"There is just no security in Venezuela," he says. "After six o'clock in the evening, you won't see anybody in the street. You see very few cars that venture out because they have to do something extremely important. Many people have bulletproof cars that didn't exist before the Chavez years."

Brener says a series of raids on Jewish schools and synagogues has added to the insecurity of the Jewish community in Caracas.

"Of course, you don't know how things will develop. But there is no question that for the first time since the coming of Chavez into power, anti-Semitism has become something in Venezuela that didn't exist before," he states.

Brener fears a brain-drain is taking place in his country, as educated families leave Venezuela while lower-skilled workers arrive.

But the International Organization for Migration says that Venezuela has in fact traditionally been a receiving country for migrants. The World Bank says that between 2009 and 2013, 40,000 more people migrated to Venezuela than left the country.

Yet Venezuela's Jewish community has more than halved over the last decade, a trend that the community in Florida says is likely to continue.