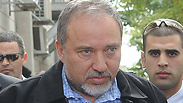 Lieberman
Photo: Avihu Shapira
Foreign Minister Avigdor Lieberman lauded the apology Economy Minister Naftali Bennett issued following Habayit Hayehudi leader's rift with Prime Minister Benjamin Netanyahu. Lieberman said: "Economy Minister Naftali Bennett was right to apologize for what he said, which was out of line. I think that you can disagree with the prime minister, you can argue with the prime minister – but you cannot lash out at the prime minister."

The minister was on a tour of the Golan Heights when he addressed the affair: "I can say with certainty that there was no intention to leave Israeli settlers under Palestinian sovereignty. I don't know how and why they gave the interpretation that was given, but there was no and there will be no such move. I'm glad that the matter ended the way it did."

The minister took what he defined as "the best political opportunity possible" to "ratify, amid the events in Syria and the negotiations we are handling – to regulate the issue of Israeli sovereignty in the Golan Heights."

Related stories:

Lieberman recalled that on December 14, 1981, the Golan Heights Law was passed, thereby expanding Israeli law to the Golan region, but that Resolution 497, passed by the Security Council on December 17, demanded that Israel rescind its annexation of the Golan Heights.

Lieberman told the press: "Part of the same package deal of the comprehensive political agreement, must include our understanding with the international government, and first and foremost with the United States, that the Golan Heights is an integral, inseparable part of the State of Israel."

The foreign minister noted the aims of the coalition in which he governs, saying that one target was "to double the population of Katzrin in the next five years. The State of Israel recently approved important measures: one regarding the development of Druze villages in the Golan Heights, one on the development of the Golan Regional Council, and the last – that we're still waiting on – regards the development of the Katzrin Regional Council."