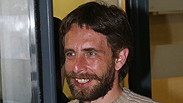 Adam Verta
Photo: Motti Kimchi
The civics teacher at the center of controversy – who was suspended from his duties earlier in the week – apologized to the student who complained about him, said his father Yoram Verta.

Sapir Sabah, the student who sent Education Minister Shai Piron the complaint letter, said: "He didn't apologize for his opinions, but for hurting me. He said he still thinks it's important that a teacher can say what he thinks and what he believes."

Adam Verta, the embattled teacher, attended a disciplinary meeting on Thursday at the offices of the Ort education system to address his suspension. At the end of the hearing, Verta said: "As emphasized by the Education Ministry, meaningful learning is dependent on teachers expressing their opinion. I want to call on all teachers and entreat them to speak their mind fearlessly."

Related stories:

After deliberations on the controversy, the Ort education system management decided not to dismiss the civics teacher.

The teacher's father Yoram told the press: "I don't believe they'll dare fire him. Primarily, we want that matters will be cleared up and the lies shown for what they are. We're speaking of facts not of opinions."

In the complaint filed by Sabah, she claimed Verta said that "the IDF is not the most moral army in the world and I am ashamed of it." She also claimed he said that the State belongs to the Palestinians.

Sabah revealed the details of the Verta's apology: "I came into class and he asked to have a word with me. We went out and he told me that it's important that I know he's not upset with me, that he understands what I had done, and that he's known for a long time that it's difficult for me to hear what he says in class."

She added: "I'm glad he apologized. I explained to him that what I did was not personal, and that I still think it's not okay. He can't say what he wants, and I'll keep fighting for that."

Still, Sabah said, "I respect him and that's the reason I agreed to the chat. I don't hate him like they said in the press. I have a hard time with what he says, and I would have done the same with any teacher or principal which said such things. It's not because the teacher is called Adam Verta."

Early in the affair, more than 200 students demonstrated in support of their teacher's freedom of speech.