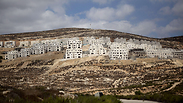 West Bank settlement
Photo: AFP
Norway's huge sovereign wealth fund, the world's largest, blacklisted two Israeli companies involved in construction of settlements in East Jerusalem, the country's finance ministry said Thursday.

The ban on investing in the firms revived a three-year prohibition on them that the Government Pension Fund of Norway had dropped in August last year.

The companies are Africa Israel Investments, an Israeli real estate developer, and its construction subsidiary Danya Cerbus.

The ministry cited the company's alleged "contribution to serious violations of individual rights in war or conflict through the construction of settlements in East Jerusalem," a territory where Israel's claims are not recognized by the international community.

Norway's sovereign wealth fund is fed by the country's oil surplus. It is worth an estimated $818 billion according to the SWF Institute, a body that tracks such funds.

As well as resuming the Israeli firm blacklisting, Norway suspended a restriction on the fund buying bonds issued in Myanmar, leaving only North Korea, Iran and Syria on the list of countries ineligible for investment.