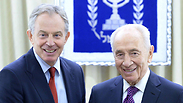 Blair, Peres
Photo: Mark Neiman, GPO
President Shimon Peres met on Thursday with former British Prime Minister Tony Blair, who is visiting Israel. In a joint statement with the UK politician, Peres addressed the Israel-PA peace talks, saying: "This is the time to make historical decisions and not political ones."

The president added that "Israel is at its most critical period of time since 1948. The repercussions of wrong decision-making today will be irreversible in the future. We can achieve peace and Abu Mazen (Mahmoud Abbas) has very serious intentions."

He stressed: "There is a chance to make the right decision – which is implementing the two state solution."

Blair joined Peres in urging the sides to promote peace, noting that his country would continue to promote economic and financial plans to improve the lives of people in the region.

Peres addressed recent disagreements between Prime Minister Benjamin Netanyahu and Economy Minister Naftali Bennett, after the latter said that if Palestinians governed over Israelis, "the Palestinians would kill them."

Peres asked: "What is this fear that struck us all of a sudden? Kill Jews? Today? That fear belongs in 1948, when we had no canon, tank, or airplane against seven armies."