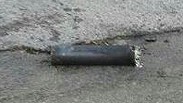 Archive
Photo: Lachish Police Department
Rocket launched from the Gaza Strip hit in an open area in the Sdot Negev Regional Council. No injuries or damage were reported.
A red alert siren sounded in the Netivot region. Residents reported to hearing blasts. No injuries were immediately reported.
Last week, at least one rocket hit an open area in the Eshkol Regional Council and two rockets hit open areas near Eilat. No injuries or damage were reported.
The IDF and police were combing the region, and two hits were detected in open areas.
On Wednesday, Military Intelligence Chief Brigadier General Aviv Kochavi said that despite a drop in the number of missiles and rockets threatening Israel, their level of precision has drastically risen.
"Some 170,000 rockets and missiles are threatening the State of Israel from all regions. Up until recently, the number was much greater and it has decreased, but it will go up again.
"They are much more precise and a lot more lethal. The most significant thing we would like to point out is the fact that the enemy has the capability to land mass amounts of arms on Israeli cities," he said.