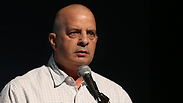 Yuval Diskin
Photo: Tzvika Tishler, Yedioth Ahronoth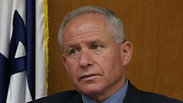 Avi Dichter
Photo: Gil Yohanan
In 2012, the six surviving former heads of Israel's internal security service, known as the Shin Bet, went on camera to give an honest account of their experiences.

The film, "The Gatekeepers," directed by Dror Moreh, was nominated for an Academy Award for best documentary and received wide international acclaim.

In a segment that was not included in the final film, Yuval Diskin (Shin Bet chief 2005-2011) and his immediate predecessor Avi Dichter (2000-2005) discuss what it really means to be the man in charge with terrorists on the loose.

This is what they said in that unseen outtake:

Diskin: I'll tell you a real story. In March 2006, a suicide bomber sets out from the Jenin area, and starts making his way to cross the West Bank. He gets to what we call the "Jerusalem envelope". He crosses the Jerusalem envelope and starts heading for the Check Post junction on the outskirts of Haifa, where he was actually supposed to commit suicide.



We are getting the information piecemeal, and begin to understand that first and foremost someone has set out from the Jenin area with very bad intentions, and he is heading southwards across the West Bank. Why south? Because there was by then a fence, a buffer that did not allow him to take a shorter route from the Jenin area to the Check Post junction, and the most permeable area was the Jerusalem envelope.

He moved towards Jerusalem, where there are all sorts of ways to bypass the checkpoints using human smugglers. We know that someone like this is moving, but since we were in a period of relative calm, we were a bit "rusty" – leading to a gap between our intelligence and our operations.

The terrorist had already reached the Jerusalem area and started moving on Route 1. He exits towards the Sha'alvim area. A little while before this we had mobilized our operations unit with a team from the Special Police Unit (SPU). In practice we work as one unit, and together they had taken care of dozens such cases in the past.

Essentially, we're trying to locate which vehicle the suicide bomber is in. From our point of view this is a guided missile that is on the way to its destination, and we must intercept it. If you will, the "Arrow" missile that needs to be launched is this same operations unit with the SPU. Eventually we arrive at Sha'alvim, set up a roadblock, and begin searching vehicles.

Dichter: So now you have to go from car to car to get him.

You need to understand, the people doing this are the combat officers, and it doesn't matter if they are Shin Bet or SPU or police, you know that when one reaches the terrorist, the terrorist is going to blow himself up. He's on his way to a suicide bombing, what does he care if he blows himself up at the intended destination, or right there in the traffic jam?

If you had slightly more accurate information, you could start to get a handle on him. If they say to you, "listen, he's wearing a red shirt", then suddenly you know to look for someone more specific. You're trying to look for a car that you know has Arabs in it.

And eventually you reach the car. You know that he's inside this car. So what do you do now? You can see people (the combat officers) trying to disconnect from what they know is going to happen to them, and what they know will happen if they don't get to that car.

What goes through the mind of these officers? Their realities, their jobs are "ticking time-bombs." Think about it, you're running towards a security event, knowing that it's a "ticking time-bomb" and that you may pay with your life. Sometimes it's chilling, obviously. You can't say for certain what the reasons are. Does he have an explosive belt on him? Will he press the trigger?

I try to get into the head of the people in the operations unit chasing after such men, knowing that if they try to arrest them, they will blow up right next to them. How do they manage?

Diskin: Look, the guys in this unit are of the highest caliber, and I think that during an operation you don't have too much time to think, or even fear. You're feel fear in between operations, but when you're in the middle of one, in my opinion, you don't have much time to think.

We had more than one such incident. For example, the story of the terrorist from the Jenin area who had a Jewish-Russian girlfriend, who had put an explosive device at a kiosk on Allenby Street. We chased after him; we understood he was returning from Tel Aviv to the Jenin area through Wadi Ara, and we're chasing after him there. Eventually we manage to isolate some vehicles, and the personnel of the operations unit chased the suspect in a way that few action movies present, in terms of the risks they took during the pursuit, until they managed to block off the terrorist, and then the guys went over and searched the vehicle.

Look, you are searching for a vehicle that has a suicide bomber, it's very possible that you'll open the door and he'll press the trigger and in that moment you and him are heading skywards.

Then one of the guys arrived, one of our commanders there, and stuck his head in the vehicle; the terrorist took the gun he had and shot the explosive device in order to detonate it. Luckily, our man wasn't hurt, since he only put his head inside and not his whole body. He was hurt, but sustained a relatively light injury. It's sticking your head in the lion's mouth.

Later on we improved the tools and the methods to minimize the risks for our agents. You can write a lot of thriller stories from these things. Even stories that are much harder than this.